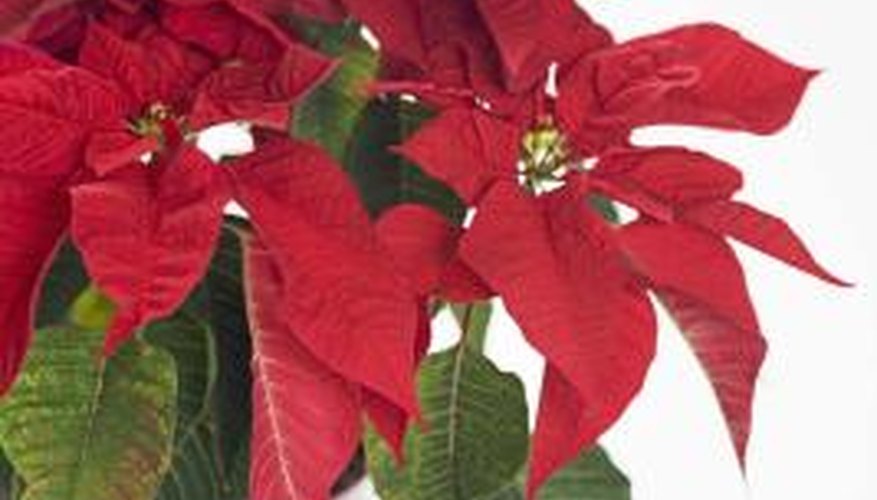 Poinsettias, with their large, festive blooms, are commonly seen at stores around the holidays. Once these plants are taken home, they may live for several months past the holidays or longer if cared for properly -- and barring any unwelcome insects, such as whiteflies. These pests are common on poinsettias and can shorten their lifespan. Whiteflies damage poinsettias mainly by chewing and sucking on the foliage. They also leave behind a sticky residue, "honeydew," that encourages sooty molds, which can interfere with photosynthesis and further weaken plants.
Chemical Measures
Step 1
Spray the foliage with insecticidal soap. Make sure you cover all areas, especially the undersides of the leaves where whiteflies enjoy taking refuge.
Step 2
Respray the poinsettias as often as the label on the insecticidal soap indicates, generally in just a few days. It usually takes more than one application to rid the plants of whiteflies.
Step 3
Check the poinsettias daily to make sure no insects return. If re-infestation does occur, use the insecticidal soap again.
Mechanical and Manual Measures
Step 1
Gently vacuum poinsettia leaves with a hand-held vacuum, as suggested by the Government of Alberta's Agriculture and Rural Development department. They suggest doing this when ambient temperatures are cool so the flies are sluggish and easy to vacuum up. Remove the bag, if applicable, when you are done and place it in the freezer to kill the insects. For bagless vacuums, dump out the contents and immediately spray the pests with an insecticide.
Step 2
Remove foliage that is badly infested. Place it in the freezer overnight to kill the bugs before discarding the foliage in your trash.
Step 3
Place sticky traps all around the poinsettia plant. These will trap many of the flies.