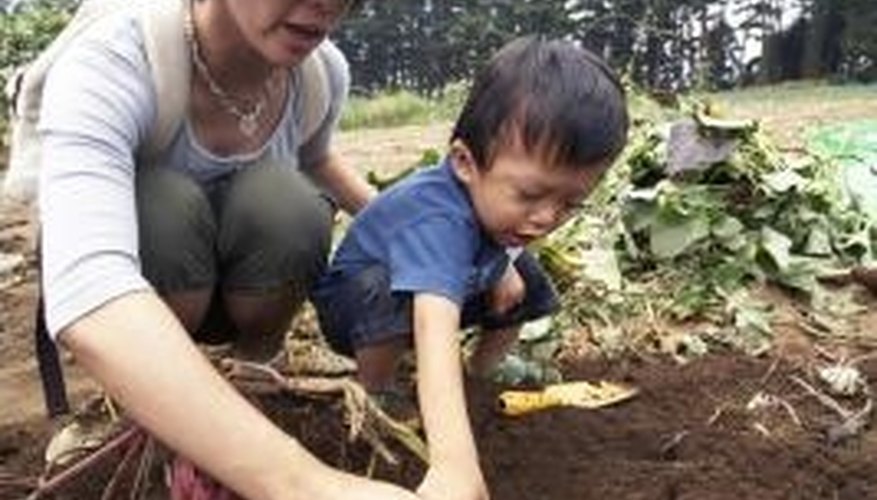 Instead of throwing away a sweet potato that has too many eyes, you can sprout it at home to conduct a science experiment with your child. Sprouting a sweet potato vine does not require a lot of preparation, and most children can sprout the vine with a minimal amount of adult assistance. The sweet potato vine is a project that will teach children about plant life and responsibility because they will have to care for the sweet potato to keep it healthy.
Insert four toothpicks one-third of the length from the top of the sweet potato. An adult may aid in this process to help determine the exact location of the toothpicks. The toothpicks need to be inserted around the sweet potato to keep it suspended in the jar. Space these toothpicks equally apart for best results.
Fill a glass jar halfway with warm water and have the child suspend the sweet potato in the jar. The toothpicks will keep the sweet potato from being submerged completely in the water, but the bottom pointed end of the potato will be under the water.
Tell the child to choose a window in the home that receives filtered sunlight. The sweet potato plant will need at least four hours of sunlight a day.
Instruct the child to care for the sweet potato vine properly. The child will need to inspect the sweet potato every day. The water will need to be changed when it appears cloudy.
Tell the child to look for small stems to emerge from the top of the potato. Instruct him to tie the small vines to toothpicks with twist ties carefully because they are not strong enough to stand.
Cut the sweet potato vine back with scissors when it becomes too unruly. Only cut back 2 to 3 inches of the vine to keep it healthy.