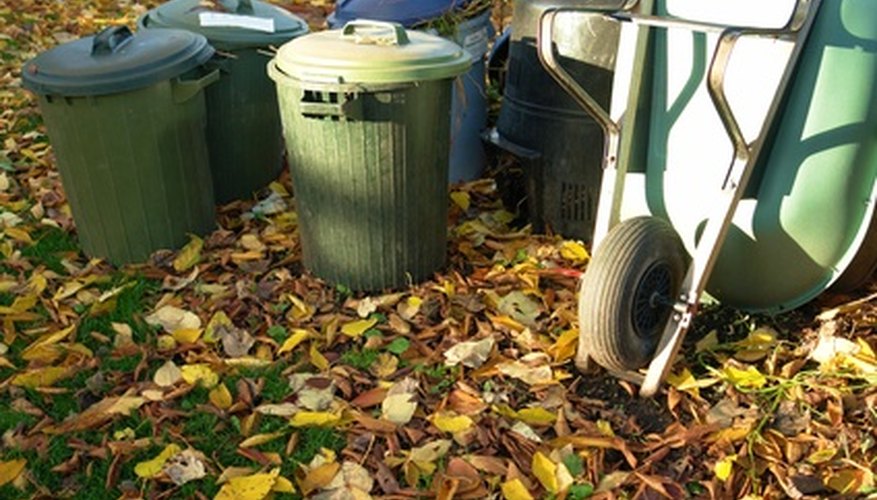 If you want to make your friends green with eco-envy, start composting your kitchen scraps; you'll throw away less trash, which should put a smile on your trash hauler's face, and you'll create a ready-made fertilizer that will help your garden plants and vegetables grow strong and healthy. Compost is decomposed organic material -- or, in your case, onion peels, melon rinds and the half-eaten peas your toddler flung across the table at you last night during dinner.
Locate an inconspicuous spot in your backyard to set up your compost pit. Select a location that is close to your kitchen but set back from your property so that your compost pit is subtle and unobtrusive. A spot in your garden that is partially covered by large plants, bushes or foliage may provide natural camouflage for your compost pit.
Evaluate whether you prefer an open bin or closed container compost pit. Open bins gather rainwater easily but attract rodents, may become too wet, and may bother neighbors. Closed compost containers can contain rotating drums that make mixing compost piles easy, avoid pests, are less smelly and look better in your yard. Look for a container with two chambers; over time one will provide fully composted materials and the other will contain still-decomposing material.
Set up your compost pit and add kitchen scraps such as meal leftovers and any other organic materials you would normally throw away. This can include banana peels, half-eaten tomatoes, lettuce butts, broccoli stumps, coffee grounds, bread crusts and much more. You should also add garden scraps like leaves, grass clippings, weeds, sawdust and manure. A balance of kitchen scraps and garden scraps, especially dried (brown) leaves and grass clippings, will help the kitchen scraps decompose into compost faster.
Turn the materials in your compost pit over every two to three days. Use a pitchfork to mix the composting materials. Mixing helps materials decompose faster and more evenly.
Remove completely decomposed materials from one chamber of your compost pit with a shovel every four weeks (or as needed if longer), load it into a wheelbarrow or kitchen cart, and spread the material on your garden to improve its health and appearance.