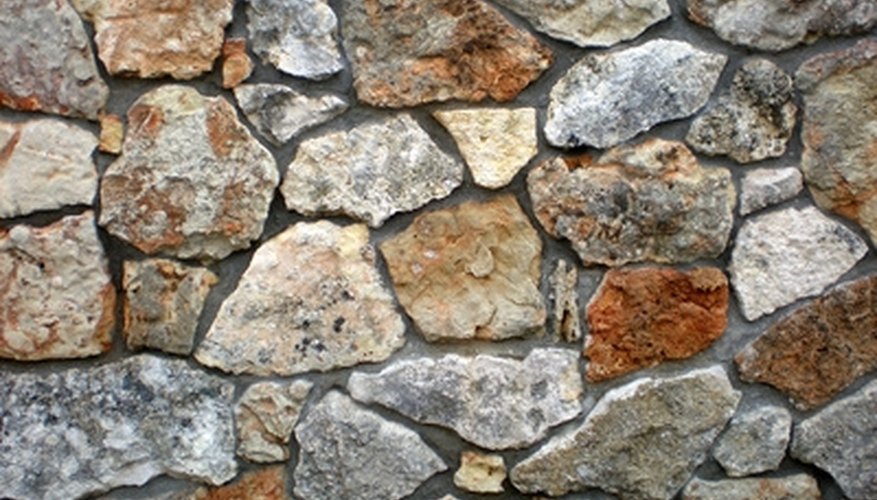 Artificial rock can be installed on any surface that will bear the weight of the artificial rock and mortar. Many types of artificial rock exist; they are usually made made by molding a mixture of cement, iron oxides and lightweight aggregates to recreate the look of natural stone. Preparation procedures for installation of artificial rock depend upon the building material of the surface intended to be covered. Concrete and masonry walls require no special preparation. However, metal or wood require the installation of a weather-resistant barrier and metal lath and the application of a scratch coat of mortar.
Surface Prep
Attach a weep screed, using galvanized nails, 4 inches above grade or 2 inches above pavement. Check that the weep screed is level, as this is the starting point for your artificial stone installation.
Attach a weather-resistant barrier to wooden or metal walls using galvanized staples. Overlap edges of the weather-resistant material 6 inches at the vertical edges and 2 inches at the horizontal edges. Ensure that the weather-resistant material laps around corners at least 16 inches; a double layer of weather-resistant barrier is preferred.
Staple metal lath to the wall with galvanized metal staples or nails, installing the metal lath so that the grooved cups of the expanded metal lath are turned upward. Overlap the lath 2 inches at vertical edges and 1 inch at horizontal edges. The metal lath should overlap corners by at least 16 inches.
Mortar Scratch Coat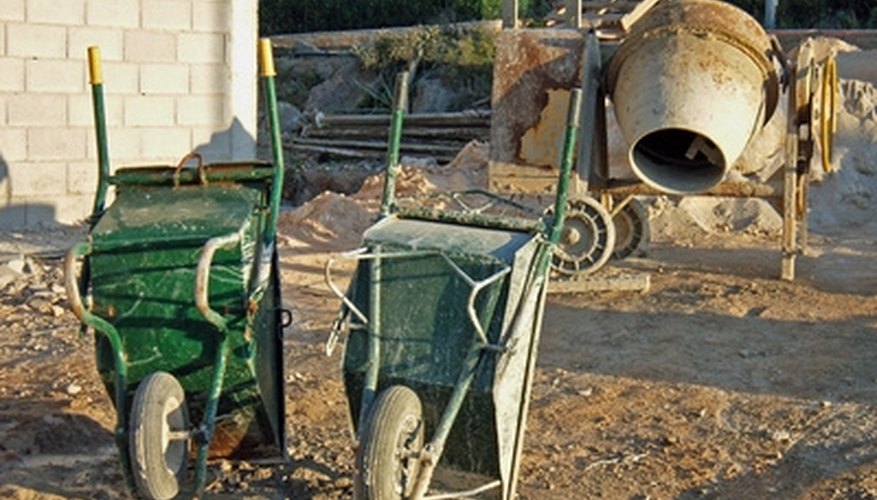 Pour mortar into a wheelbarrow and add a small amount of water. Mix with your mortar-mixing hoe, adding water until the desired consistency is reached. Mortar should not be too wet or too dry or it will not stick properly to the expanded metal lath. The mortar should stick to a trowel that is turned sideways, but should fall off with one shake of the trowel.
Apply mortar to the expanded metal lath with a trowel, pushing the mortar into the lath and creating a layer 1/2-inch to 3/4-inches thick.
Scratch the surface of the mortar horizontally with a stucco rake after the mortar has begun to set. Allow to dry.
Artificial Rock Installation
Lay artificial stones out on a flat surface to prepare for placement on the wall, using contrasts to create a visually appealing stone wall. Put thicker stones next to thinner stones, larger stones next to smaller stones, and smoother stones next to rougher stones.
Pour dry ingredients of Type N mortar into wheelbarrow or mortar mixer. Add iron oxide for color tinting, if desired. Mix dry ingredients. Add water, a small amount at a time until mortar is the desired consistency.
Apply mortar to the back side of each artificial rock and press into place or apply mortar directly to the wall, covering approximately 5 feet of wall at a time. Place corner stones first. Alternate artificial rock corner stones so long and short sides are alternated.
Fill a mortar-grout bag with mortar that is wetter than mortar used for troweling.
Squeeze mortar into grooves around stones. After the mortar begins to set, use a pointed wooden stick or a small trowel to remove excess mortar. Brush the entire surface with a whisk broom to remove loose mortar and smooth the mortar surface.