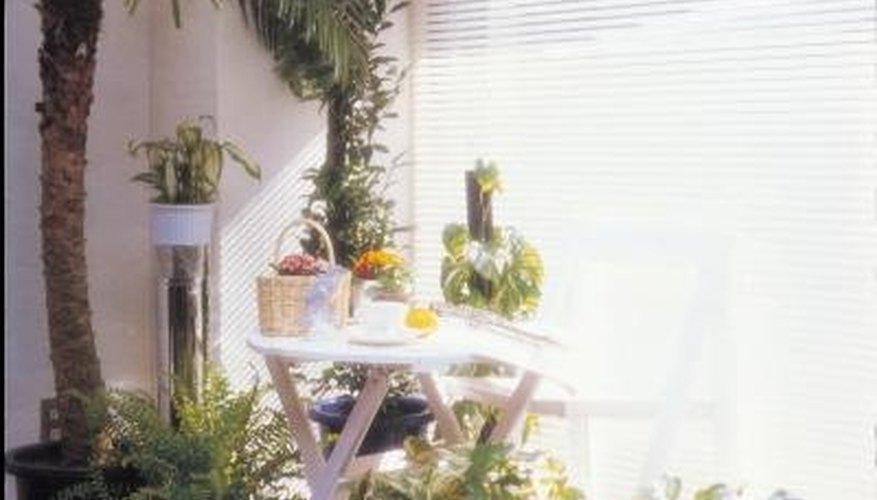 Accustomed to the hot and humid tropics, ficus trees are well adapted to most indoor environments. Low-maintenance and fast growing, most ficus varieties make easy and hardy houseplants. There are hundreds of ficus plants in the family. Most varieties commonly grown indoors are trees that are pruned to stay small. A few are vining plants like the creeping ficus. As with any houseplant, ficus trees in an indoor environment need proper care to thrive and grow.
Use a planting pot that is 1 to 2 inches larger than the root ball of your ficus plant. Choose a pot that has several drainage holes in the bottom to allow water to drain through.
Spread a 1- to 2-inch layer of coarse gravel over the bottom of the pot to hold in the soil and improve drainage. Add enough humus-rich potting soil to fill the pot halfway full.
Slide your ficus out of the nursery pot and place it in the new pot. The base of the trunk should be about 1 inch below the lip of the pot. Add or remove soil from under the root ball as necessary.
Fill in around the root ball, leaving about 1 inch between the top of the soil and the top of the planting pot. Soak the potted ficus until water seeps from the drainage holes in the bottom. Place the pot in a sink or outdoors to drain.
Place the pot in a sunny window where the ficus tree will get six or more hours of direct sunlight each day. Less light is fine in the winter as the tree will go into a dormant period.
Water when the top inch of the soil feels dry to the touch, soaking the pot until water runs from the drainage holes at each watering. Water creeping ficus and other vining varieties as soon as the top of the soil feels dry. Use room temperature water.
Fertilize once a month beginning in the spring and continuing until fall. Use a balanced fertilizer and cut the recommended application amount in half. Check the package to determine the correct application method. Discontinue fertilizing in the fall to allow the ficus tree to go into winter dormancy.
Prune to shape and control growth any time of year. Make clean cuts just above a leaf node using a sharp clean pair of pruning shears. Ficus trees can withstand heavy pruning and tend to fill out after getting a good trim.