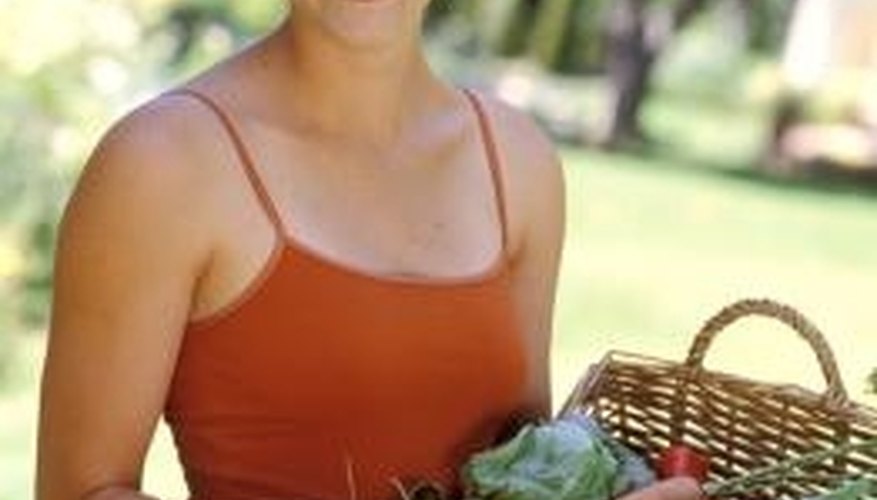 A small vegetable garden is perfect for beginners to get started with gardening without being overwhelmed by hundreds of square feet of growing area to manage. A 4-foot-by-4-foot garden plot is enough space to cultivate 16 different vegetables using the square-foot gardening method. Square-foot gardening is a space-saving practice that you can use to get your feet wet as you learn to garden.
Measure out a 4-foot-square area. Put stakes at the corners and connect them with twine to show the perimeter of the garden. Dig or till up and remove any grass or other plant cover, and work in compost or other amendments needed to create a rich soil. You should be able to reach to the center of the garden from all sides.
Measure along the perimeter of your garden and mark every 12 inches with a stake.
Wrap a 5-foot piece of twine around one stake and bring it across the garden to wrap around the stake directly opposite. Continue attaching twine to stakes until the garden is sectioned into 16 1-foot squares.
Dig a hole in the center of one of the squares. Make the hole deep enough for a transplant; that may be anywhere from 3 to 8 inches, depending on the size of the plants.
Remove a plant from its pot. Gently squeeze the pot while twisting the plant to loosen the soil from the pot. Sometimes, holding the plant upside down makes it easy to slide the pot off. Be careful not to tear roots.
Break the root ball slightly before placing the roots of the transplant in the hole. The green part of the plant should be level with the soil line. Fill the hole around the root ball with displaced soil and press firmly to hold the plant in place.
Transplant the other plants into the remaining squares.
Water plants thoroughly to settle the soil around the roots.