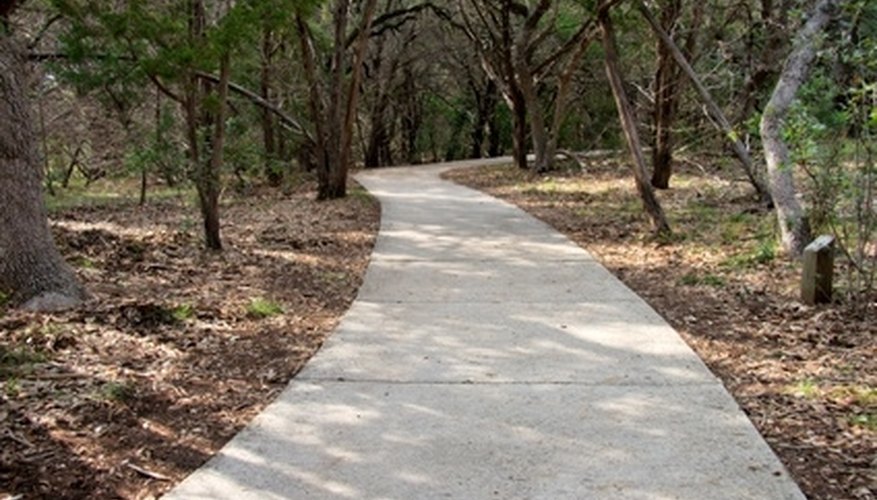 The natural color of concrete is gray, but your sidewalk need not be limited in its appearance. Sidewalks can be stained for a completely new look. A stained concrete walkway can add color and interest to outdoor areas and it can be done on new or existing concrete. Concrete stains come in a multitude of color options so select a color for your sidewalk that matches your home, surrounding buildings or the roadway.
Cleaning
Pour several drops of detergent into a bucket filled with water to create a soapy wash liquid.
Soak your broom in the soapy liquid then apply to the sidewalk. Scrub the concrete clean of any dirt, debris or organic matter. Continue reapplying soapy water and scrubbing until the surface appears clean.
Rinse the concrete thoroughly using your garden hose.
Allow the sidewalk to air-dry before staining.
Staining
Pick a concrete stain formulation. If the sidewalk is less than 6 months old, select a stain that is water-based. If the sidewalk is older than 6 months, select an acid-based stain.
Ask the paint specialist for the color of your choice or mix up a custom color. Concrete stains come in a wide variety of colors and many paint stores will mix custom colors based on your specific needs.
Put on your gloves and mask.
Open the stain and pour into the paint tray. Dip your roller into the stain to saturate and begin at one end of the sidewalk, applying the stain in a smooth, rolling motion, just as you would paint a wall.
Paint from left to right along the sidewalk to avoid missing any areas. Be sure to cover all the surfaces, including the cracks, corners and crevices. Continue painting in this manner until the entire sidewalk is covered.
Processing and Sealing
Allow the stain to dry completely. This should take about 24 hours. Avoid using or touching the sidewalk while it dries.
Apply a second coat of stain, if desired. It is not necessary to apply a second coat, but if you'd like to deepen the color of the stain, simply repeat the staining procedure. Ensure the second coat is completely dry before proceeding to the next step.
Pour the concrete sealer into the paint tray and saturate your roller in the product. Sealer will "lock in" the stain and prolong the life of your concrete.
Apply the concrete sealer over the entire sidewalk surface in the same manner as you applied the stain. Be sure to cover all of the area, including cracks and crevices.
Allow the sealer to dry overnight before using the sidewalk.
Things You Will Need
Bucket

Mild detergent

Water

Hard bristle broom

Garden hose

Paint tray

Concrete stain

Gloves

Mask

Paint roller

Concrete sealant
Tip
Before beginning the staining process, check the weather forecast. The best conditions for staining outdoor concrete is a sunny, dry day. This allows the stain to dry properly. Avoid staining if the forecast calls for inclement weather.