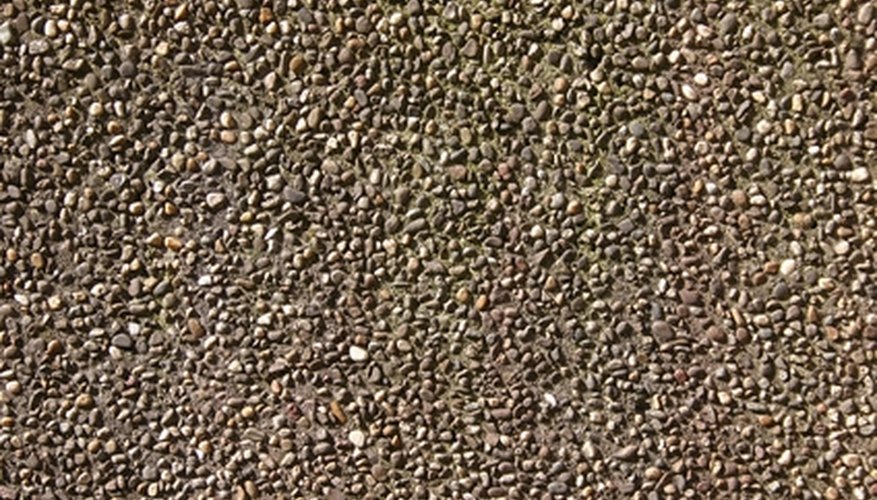 Installing an aggregate floor covers existing concrete with a finish that is durable and that you can tailor to a very specific look. You mix an epoxy product with small river pebbles, quartz or even glass chips to create a surface that can contain a design, a blend of colors or even a team or business logo if you desire. The surface wears well and lasts for years. You can lay down an epoxy aggregate floor in a weekend as a do-it-yourself project with the right tools and technique.
Measure the floor area. Use these measurements to determine the square footage you will cover, and the amount of product you will need to create your floor. An epoxy floor should be installed in one application, so having enough materials for the job is critical.
Grind down or sand any ridges, sharp edges or rough spots on the floor. Clean the floor, removing all dust and debris. Wash down the floor if necessary and clean away any grease or oil spots.
Fill cracks and uneven areas with epoxy caulk and concrete leveling compound. Allow 24 hours to dry.
Apply the epoxy primer to the entire floor surface using the paint rollers and tray. Use the primer according to the product instructions. Allow the primer to dry completely.
Prepare your epoxy and aggregate for use. If you have chosen a blend of aggregate sizes and colors you will need to mix together the various stones to create your blend in the tumbler.
Add the epoxy resin and hardener to the aggregate in the tumbler. Your specific brand and type of product will have mix ratios, but a general mix is three parts aggregate to one part epoxy. Tumble the epoxy and aggregate together so everything is evenly coated and the epoxy is mixed well.
Pour the aggregate mix onto the floor. Do not dump it in one central area; use a spreading pattern by moving the tumbler as you pour to make it easier to lay the aggregate out.
Trowel the aggregate epoxy mix over the floor in a thickness prescribed by your product, generally about 1/2 inch thick. Work the aggregate surface with the trowel as you spread the mixture until it is even and level. Allow the floor to dry completely according to the time on your manufacturer's instructions.
Seal the floor with epoxy sealer, using a paint roller and tray. Allow the sealer to dry completely, then repeat with an additional coat of sealer.