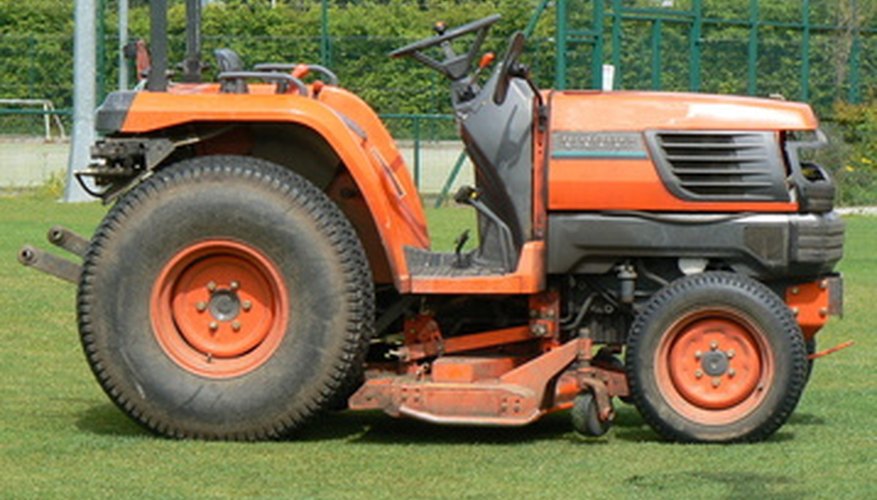 The Kubota B7100 tractor uses a three-cylinder diesel engine that produces 16 horsepower. It is available in rear-wheel drive and four-wheel drive and is ideal for agriculture. As with most farm equipment, the B7100 can suffer wear and tear. Many of the problems are relatively simple to diagnose, whether it is an issue with a dirty fuel filter or corroded battery connections. Run through a few troubleshooting steps before calling in a service mechanic.
Inspect the battery connections for any dirt or corrosion if the engine will not crank. Remove the battery cables, negative side first. Clean the battery connections with a pocketknife or small wire brush. Reconnect the cables, connecting the positive cable first. If the cables are damaged, have them replaced. Ensure the battery has a sufficient charge.
Verify that the engine has not become "locked." Water in the cylinders and crankcase can sometimes prevent the pistons from moving in the cylinders. Remove the glow plugs and rotate the engine by hand. This will purge most of the water from the system.
Check the fuel filter for dirt if the engine cranks over but will not fire. Clean or replace the fuel filter, if necessary.
Remove the gas tank cap and see if you detect the odor of gasoline mixed in with the diesel. The smell is quite distinct and should be readily noticeable. If you detect gas, flush the tank and fuel system immediately. Refill the tank with the correct diesel fuel.
Blow compressed air through the radiator fins if they are clogged and the engine tends to overheat. Take care not to bend the metal radiator fins with the compressed air.
Verify that fuel is reaching the injectors. Inspect the injection pump for a stuck fuel control lever. Trace the engine stop rod to the end of the injection pump. Press in on the rod. If the spring lever does not automatically follow, push it in manually with your finger. You may need to use a few drops of oil to loosen up the spring lever.