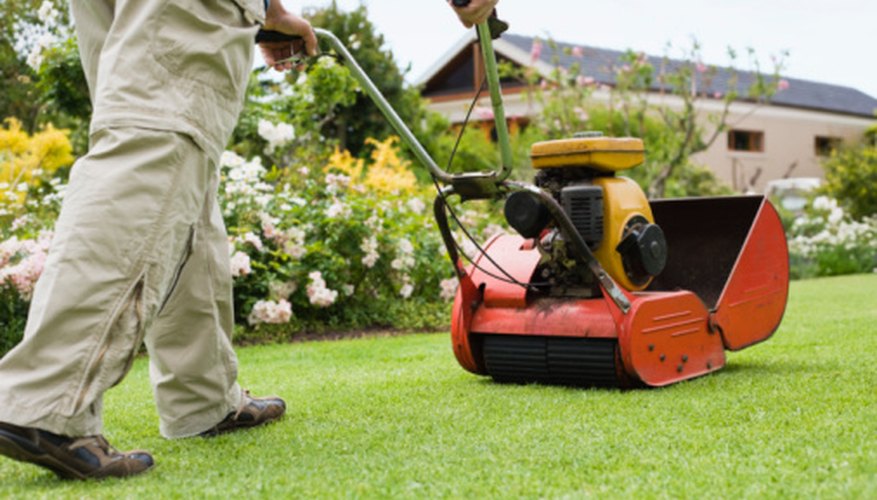 The Scott's Company LLC produces three models of rotary spreaders: the AccuPro 2000, the SR 2000 and the EdgeGuard Deluxe. These spreaders are used to evenly and quickly dispense grass seed and fertilizer products onto the surface of the lawn. The usage instructions for these spreaders is exactly the same for all three models, with the only difference being that the AccuPro and EdgeGuard models have plastic guards to prevent over-spray.
Place the Scott's rotary spreader on a flat, even surface such as a sidewalk, patio or paved area. Pull back on the lever located in the center of the handle to close the dispenser plate.
Pull off the plastic cover from the top of the hopper, which is the tub-shaped part on front of the spreader. Fill the hopper with either grass seed or fertilizer granules and replace the plastic cover.
Look at the back of the seed or fertilizer bag and locate the proper dispensing rate based on your size lawn. The rate will typically be displayed as a letter and a single digit number.
Look at the back of the spreader under the handle and locate a knob attached to a flat metal plate. Turn the knob counterclockwise to loosen it and then slide the plate left or right until the proper letter lines up with the line above the knob. Turn the knob clockwise to tighten it back up.
Locate the orange cone near the bottom of the spreader and look for a small tab at the top of it. Move the tab until the bottom of it lines up with the proper dispensing rate number.
Place the spreader at the edge of the lawn and push down on the center lever to begin dispensing the product. Push the spreader forward while maintaining a walking pace of approximately 3 mph. Walk in side-by-side rows over the entire surface of the lawn.