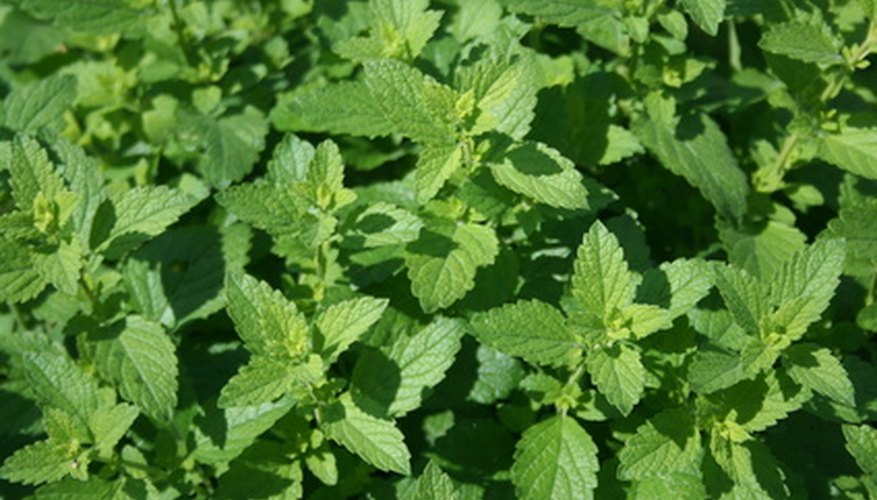 Peppermint is used both for flavoring foods or drinks and as a calming agent for the stomach. You can use the peppermint leaves fresh off the plant, or dry them for later use. When dried, peppermint can be used in teas or to flavor dishes much the same way as the fresh leaves do. Drying these leaves, like other herbs, does not require any special equipment or expertise.
The Hanging Method
Cut the peppermint plant using a knife or scissors. Cut it low enough so you have at least 1 inch of the stem to tie your string around when bundling.
Rinse the peppermint with clean, cool water to remove dust and insects. Remove dead or diseased-looking foliage and discard these.
Lay the rinsed plant on paper towels to dry. Leave the peppermint on the paper towels until the mint is fully dry.
Tie bundles of the peppermint together in individual paper bags. The Herb Society of America recommends tying bundles with no more than six stems, as larger bundles may not allow sufficient air flow. Leave enough string to tie the bundle to a rod or nail.
Hang the bundles upside down in a dry area. According to the University of Illinois Extension, the peppermint should be fully dry in 1 to 2 weeks.
The Oven Method
Cut the peppermint plants you wish to dry. Rinse them under cool water.
Turn your oven on low. Farm Fresh Living recommends setting it at about 200 degrees Fahrenheit and leaving it on for 20 minutes to preheat.
Remove the leaves from the plants and discard the stems. Place the leaves on a baking tray in a single layer.
Turn off the oven and place the tray of leaves in the oven. Remove the leaves when dry.