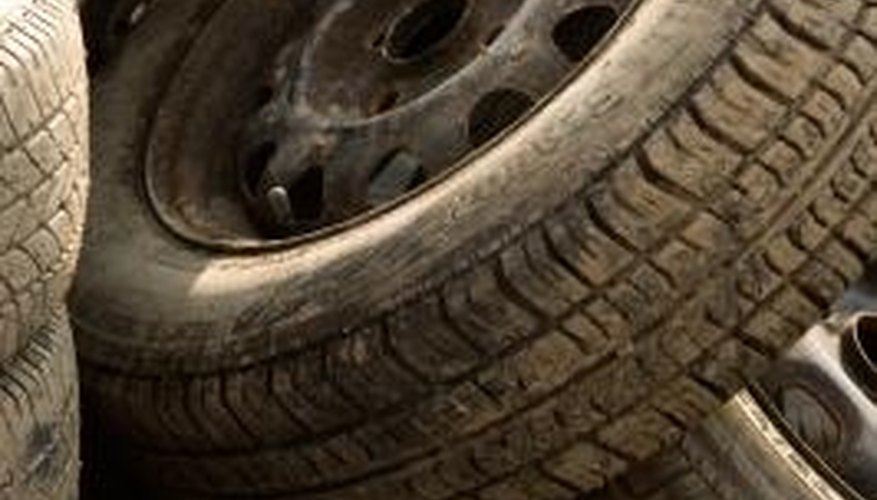 The potato plant likes plenty of garden space. The time-honored method of increasing potato plant yield involves frequent back-breaking hoeing of the surrounding soil and pulling it up around the plant. While potatoes don't ask for much horizontal space, they do like to grow in vertical soil. This characteristic is particularly appealing to gardeners who have limited gardening areas. The ideal potato planter will provide your plants with a 12-inch diameter of surface area and two or three feet of depth. You can build the perfect potato planter with old tires--probably for free--and benefit the environment by keeping them out of the landfills.
Cut your seed potatoes into one-inch cubes. Each cube should have one or two "eyes" for best results. Set them on the kitchen counter to dry for about 24 hours.
Choose a sunny location with good air circulation for your potato planter. If you're embarrassed by what the neighbors may think about an ugly stack of old tires, pick a spot where they won't be able to see it. Cultivate the soil of your chosen site to a depth of several inches. This will increase your potato planter's drainage capacity.
Set a tire on the cultivated area and dump several inches of gravel into it. This will promote even better drainage for your potato plants. Cover the gravel with enough of potting soil or compost to fill the tire to about an inch from the top. Smooth the soil surface gently with the palm of your hand.
Press three seed potato cubes into the top of the soil with the eyes facing upward. Space them evenly apart, about four inches away from the inside of the tire wall. Cover them with soil level with the top edge of the tire. Water the potato bed gently and thoroughly. The soil should be kept evenly moist, but never soggy or wet. Don't allow your seed potatoes to dry out.
Stack another tire on top of the first one when the potato seedlings are about six to eight inches tall. Add enough soil to the tire to cover the plant stalks, leaving about two inches of their tops above the surface. Continue to water your potatoes enough to keep the soil in the planter evenly moist.
Repeat the process with another tire each time the potato seedlings grow another eight inches taller until harvest time. The taproots will have plenty of room to grow deeply, producing plenty of potatoes from the soil surface downward.
Things You Will Need
Seed potatoes

4 to 6 old tires

Gravel

Potting soil or compost