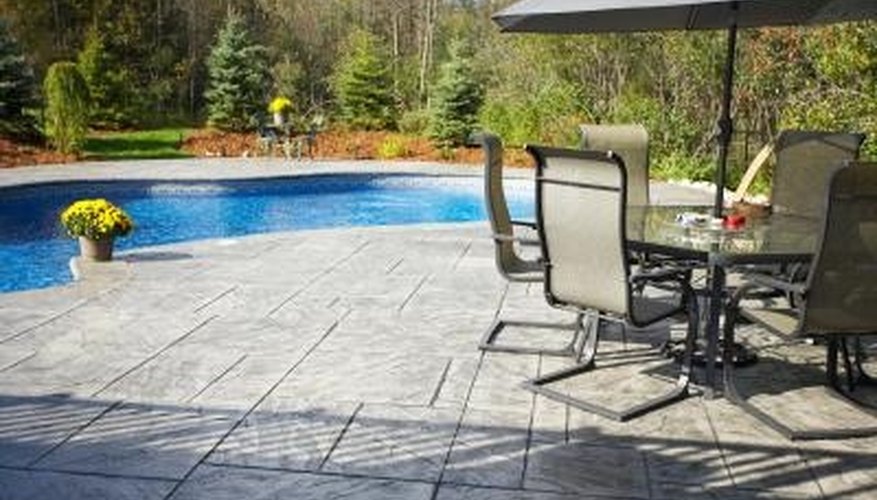 Cement patios provide the homeowner with additional outdoor living and entertaining space. Cement is a durable material commonly used in the construction and remodeling industry. Over time, fluctuating weather conditions can wear down the cement patio. One repair method involves applying a cement overlay. An overlay is a thin layer of cement installed over the existing cement surface to create a smoother, stronger patio.
Clear loose debris, dirt and dust from the cement patio with a push broom. Wash the surface of the cement patio with a chemical degreaser formulated to use with concrete. Refer to the package label for complete application specifications.
Rinse the cement patio clean with a pressure washer. Make sure all degreaser residues are completely removed before proceeding. Allow the patio to dry up to 24 hours.
Spread a layer of concrete bonding primer over the cement patio using a long-handled paint roller, and allow it to dry overnight.
Nail 2-by-8 wooden boards around the perimeter of the cement patio to form a wooden frame to keep the overlay on top of the existing cement. Use a carpenter's square to make sure the wooden frame creates a right angle at each corner. The top of the wooden frame should extend above the existing cement surface to the same level as the indented overlay.
Insert two, long wooden stakes into the ground behind each wooden frame corner to secure the boards.
Coat the inside wood of the frame with a vegetable oil spray, This spray will help the frame come away from the hardened overlay cleanly.
Pour concrete overlay mix into a 5-gallon bucket and mix with the mixing hook attached to the power drill. Refer to the overlay package label for complete mix/water ratio.
Dump the bucket of cement overlay onto the patio. Level the overlay by using a long 2-by-4 board that extends past both sides of the patio. Have a helper grasp the other end of the 2-by-4, and slide the board over the top of the overlay in a sawing motion.
Smooth the cement surface with a metal float, and create a non-slip surface by brushing the top of the patio with a stiff-bristled broom. Use a concrete edging tool to round the edges of the patio to eliminate the risk of crumbling.
Spray the surface of the overlay with a concrete curing compound, and cover with plastic sheeting. Allow the cement to cure for two to five days, depending upon weather conditions. Mist the patio with water one to two times per day to keep the concrete moist.
Remove the plastic sheeting and wooden frame. Apply a thin, even coat of concrete sealer to the patio with a paint roller. Allow the sealer to dry overnight before using patio.