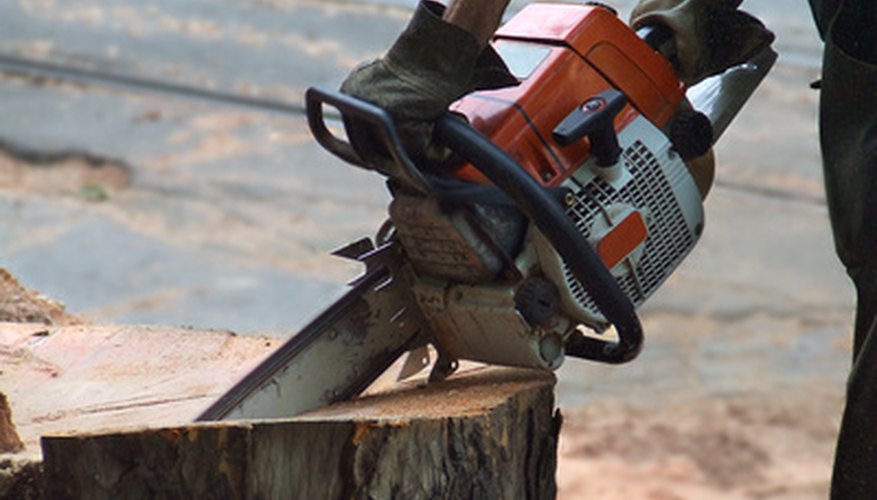 The teeth of any chain saw must be sharpened regularly. Well-maintained teeth allow a clean cut and prevents the chain from slipping or wedging itself in the wood in an unfinished cut. The Husqvarna chain saw is similar to other chain saws on the market, but you'll want to consult the owner's manual for special features of your model. Husqvarna makes a filing kit, which is helpful to have for this task. You'll also need two other files and safety gear.
Place the Husqvarna chain saw blade into the filing vice. Hammer the filing vice into the block of wood, then place the chain saw bar into the vice and close the vice to hold the bar. The chain must be able to move around freely.
Study the filing guide because the arrows on the filing guide show which way the chain should go. Place the filing guide over the chain chassis with the high gait facing toward the back of the chain.
Place the round file on both rollers, parallel to each side of the filing guide, and file the chain. Use a smooth forward motion as you file. The tooth will be sharpened after a few strokes of the file.
Move the filing guide to the next tooth. The chain saw teeth are shaped in alternating directions along the chain.
Check the filing with the depth gauge. The depth gauge is incorporated in the filing guide. Place the correct depth gauge for your size chain over the filed teeth and tilt to see the required depth.
Use the flat file to obtain the correct depth for the teeth.