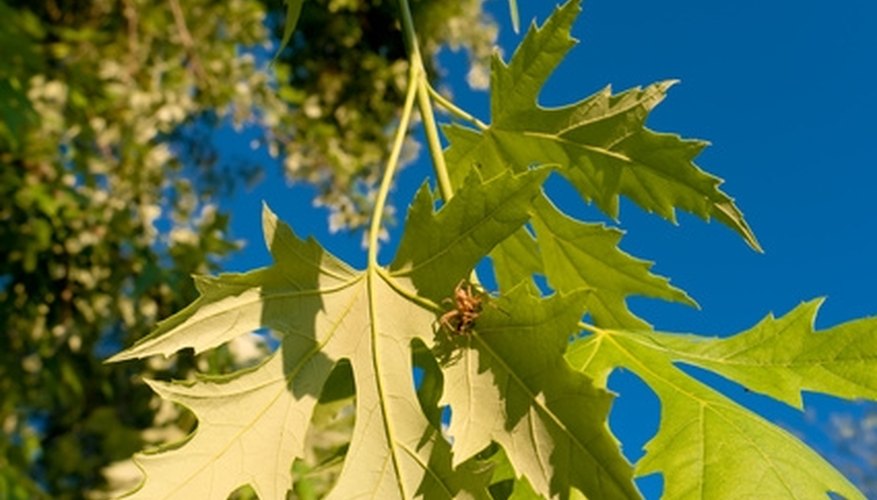 Leaves can provide valuable information about species of trees. By examining the shape, color, size, arrangement and texture of a leaf sample, you can accurately determine various types of trees around you. Using basic observation skills combined with a leaf identifying website, you should be able to hone your recognition skills and identify native trees in your area.
Collect a leaf sample from the tree you'd like to identify. Use a leaf cutting that includes a short portion of the branch to give you further insight into the tree.
Determine whether the leaf came from a deciduous or coniferous tree. Coniferous trees have needles which may be long and sharp or flat and scaly. Deciduous trees have flat, broad leaves. This step is essential before you can move forward in leaf identification.
Input the information gleaned from Step 2 into a leaf key such as the online identifier offered by Virginia Tech or University of Wisconsin.
Examine the arrangement of the leaves. If they are needles, determine if they are in bunches or single. If they are leaves, determine if they are on branches that grow directly across from one another or grow in a staggered, alternating pattern. Input this information into the leaf key.
Add further information regarding leaf color, shape and style into the leaf key, as prompted. As you narrow in on your leaf species, the options will become more specific to your sample. Take your time to examine your sample and the available choices and make your selections carefully in the leaf key. If you make a mistake, simply click the "back" button on your browser to make an alternate selection.
Determine the species of tree your leaf sample belongs to based upon the leaf key's calculations.