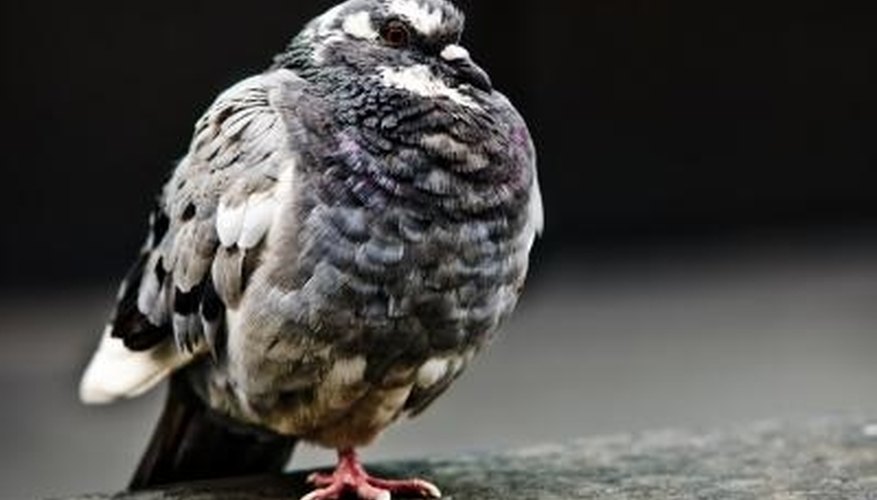 Commonly found roosting outside and inside buildings, pigeons can be a nuisance. Since their introduction from Europe, pigeons have multiplied to inhabit many cities across the United States. The amount of pigeon excrement produced as well as diseases such as salmonella they can carry, can make the presence of pigeons a health concern. Controlling pigeons is an ongoing battle that can include the use of a liquid chemical containing grape seed oil.
Put on a pair of safety glasses and gloves for protection. Use a face mask, if desired, to reduce the possibility of inhaling the spray chemical.
Place a pump spray container on the ground. Pull the top, with the pump attached, from the spray container.
Add Methyl anthranilate (MA) solution made with grape seed oil to the container. Read all manufacturers warnings and product information carefully. Add the MA solution to the spray container and add water to fill the spray container.
Place the top with the pump back on the spray container and tighten. Pressurize the container by pumping the handle attached to the top several times.
Spray the MA with grape seed oil along ledges, pipes and other areas where pigeons are roosting. Direct the spray back into crevices where pigeons can wedge themselves in to roost.
Spray exterior objects including park benches, statues and other upright objects on which pigeons congregate and roost.
Apply the MA spray to foliage of trees, shrubs and landscaping to deter pigeons from assembling, especially near walkways and eating areas.