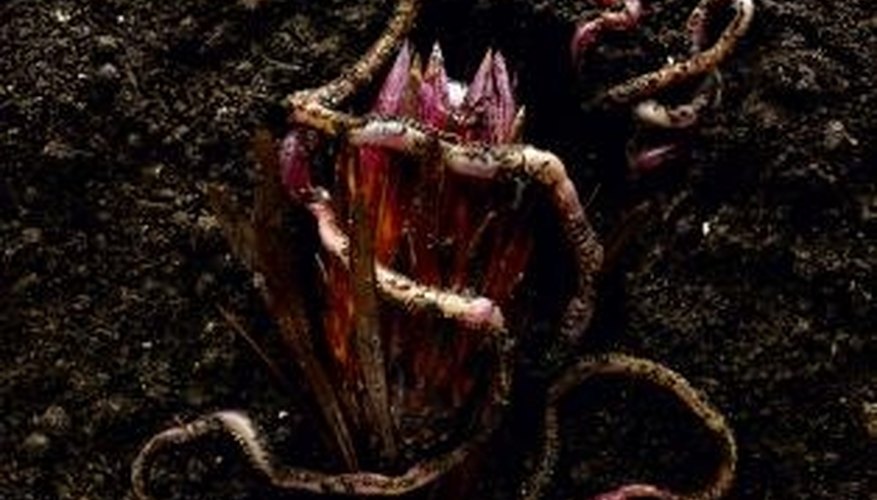 Raising worms may seem odd, but earthworms and night-crawler worms provide useful services. Gardeners raise these worms to aid in home composting efforts, while others desire fresh bait and fish food. Still others may simply enjoy watching the creatures bury and feed. Regardless of your reason for raising night crawlers, you must provide an appropriate bedding combination to serve as their home and their food source.
Wipe the inside of a container that is at least 4 feet wide and long with a damp rag to remove all dirt and dust. If you use a simple storage container or other non-professional container, drill 1-inch holes spaced every 6 inches along the bottom of the container to allow for drainage.
Lay a 1-inch layer of gravel on the bottom of the container to allow for drainage of excess water. In a separate container, mix 2/3 soil or dirt with 1/3 compost or manure to form the basis of your night-crawler bed. You can also use peat moss or other organic material to serve as the bedding for your worms.
Add the soil mixture to the container, filling until there are 2 to 3 inches left at the top of the container.
Sprinkle clean water across the surface of the mixture until the surface gleams slightly. Once you add the worms, you may need to sprinkle water once every two to three days to maintain the moisture level.
Store the earthworm bed in a sheltered area where the temperature remains constantly above 65 degrees F. The mixture of soil and organic material makes an appropriate home for the worms, and allows them to burrow and feed.