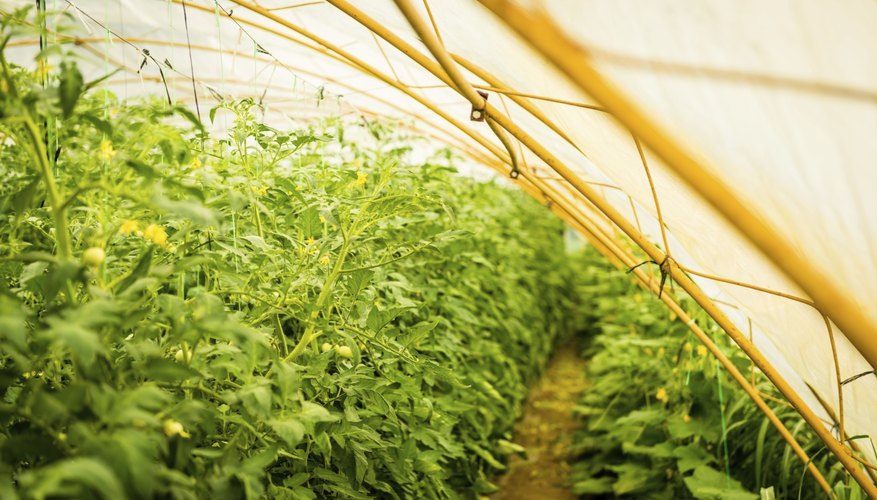 A grow tent allows you to create the perfect environment for your plants. It contains not only the plants but also holds in the humidity and light that they require. Without proper grow tent ventilation, however, these favorable elements can end up being too much of a good thing, overwhelming plants with a buildup of heat and humidity. The grow tent's air must be exchanged frequently for the plants to remain healthy.
Problems from Inadequate Ventilation
The small size of a grow tent combined with the amount of heat put out by most light sources means that the inside of the tent is highly susceptible to a rapid buildup of heat. If the conditions inside the tent get too hot, the plants will die. Humidity also tends to build up easily inside a grow tent, making plant respiration difficult and encouraging the growth of mold, which can destroy plants. The solution to both of these problems is proper ventilation of the grow tent.
Simple Ventilation
If you have a small grow tent that is not overloaded with plants and has a relatively cool light source, such as fluorescent lights, then you may be able to maintain adequate ventilation in the tent by creating some holes in it. Put an outflow vent hole on one side near the top of the tent so that rising hot air has a place to exit. Place another hole near the tent's bottom on the side opposite the outflow vent to serve as an intake opening. Cool air from near the grow tent's floor will be pulled into that opening as hot air escapes from the upper hole.
Addition and Size of Fans
If your grow tent needs more than just a casual flow of air, then it's necessary to use a fan that exchanges all of the tent's air every two to three minutes. Determine the volume of the grow tent by multiplying the tent's length times its width times its height. The total is the number of cubic feet of air that must be exchanged. Divide that number by two or three to determine the number of cubic feet per minute that a fan must be able to exchange every two minutes or three minutes.
Setup Process
The fan should be mounted so it points outward over the grow tent's upper vent to pull out the hot, humid air. A canister fan is usually the right size and shape for this job and can be hung directly on the grow tent's frame. If you have a large grow tent, then it may need more than one exhaust vent to provide proper ventilation. Adding a second fan will double the air flow through your tent, providing twice the ventilation of a single fan. If you add a second exhaust opening, add at least one more intake opening as well so that the air coming in can keep up with the air being removed.