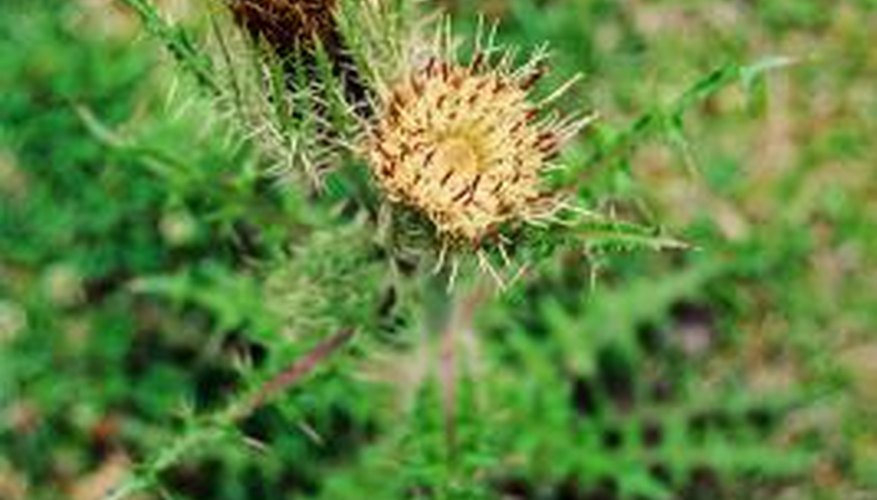 A natural substitute for chemical preemergent herbicides, corn gluten meal interferes with seeds' ability to germinate and form roots, thereby rendering them not viable. The weed produces a shoot but root formation does not occur. Its use as a natural preemergent herbicide was accidentally discovered during research on turf grass diseases. It can control 50 to 60 per cent of weed seeds when applied at 20 lb. per 1,000 square feet. Rates of application vary with the intended use, but satisfactory control of weeds is achieved at any recommended rate of application. A higher percentage of weed control is obtained using it annually for several years.
Step 1
Fill a drop spreader with granulated corn gluten, available under several brand names. The application rate for crabgrass control in lawns is 12 lb. for each 1000 square feet. Set the spreader to apply this ratio, following the instructions of the manufacturer of the drop spreader.
Step 2
Apply corn gluten using the drop spreader in early to mid-spring for the most effective preemergent weed control. Walk across the lawn with the drop spreader. Walk in straight rows, slightly overlapping each pass to avoid missing a spot.
Step 3
Make a second pass, walking in a direction perpendicular to the direction you walked first. Overlap each pass to avoid bare spots.
Step 4
Make a second application in early to mid-August. This second application will prevent newly formed seeds from germinating and forming roots. This will reduce the number of weeds in subsequent seasons. Apply using the same procedure used in the early spring application.
Step 5
Water the area with .25 inches of water after applying the corn gluten, if rain does not occur within five days, according to Iowa State University. Allow the area to remain dry after watering, as too much moisture will cause the weed to form roots when it germinates and render the corn gluten useless.