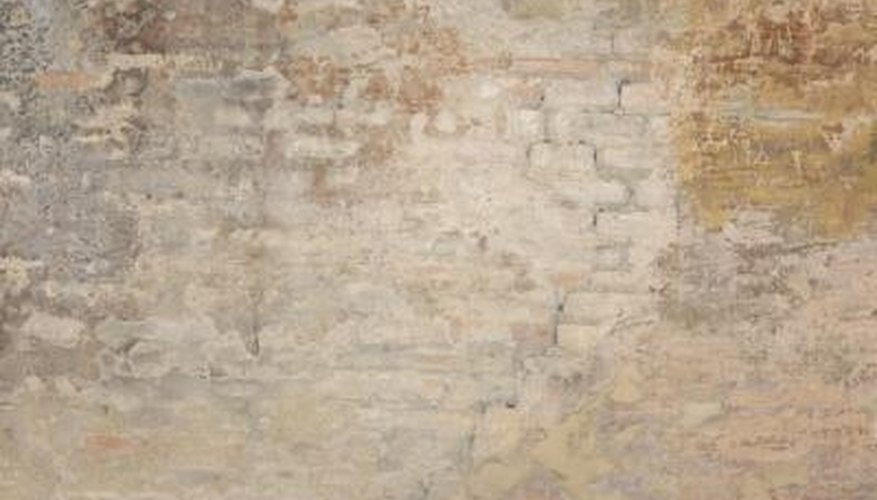 Repairing cracks in the surfaces of bricks is a simple process. Cracks in bricks usually occur due to exterior or internal stress on the walls, or because a brick shifted or broke, which causes undue stress on the remaining bricks. Repairing these cracks will return a brick wall to a like-new appearance. It is easy to repair cracks in bricks with a sand-and-mortar mixture. This mixture will not only disguise the cracks, it will help strengthen the wall so further cracks do not appear.
Wear safety goggles, work gloves, hearing protection and a dust mask when repairing brick. Gently chip away any loose pieces with the chisel. Save the pieces, if possible, to glue back to the front of the remaining bricks. Use a stiff brush to remove brick dust and dirt from between the cracks.
Create a mixture of mortar and sand with a ratio of three parts sand to one part mortar. If you use three shovels of sand and one shovel of mortar, use 1/4 gallon of water. Mix the materials together until they form a slightly runny paste. Add some dye until the mortar mix is slightly darker than the bricks on the walls.
Use a trowel to place the mortar inside the cracks on the surfaces of the bricks. Pack the mortar tightly inside each crack. Use the trowel to feather the mortar out and make it even with the rest of the brick face. If you have any of the brick chips, press them onto the surface of the mortar to make the cracks even less noticeable.
Allow the mortar to dry for two hours. Wet a sponge and wring it out so it is damp but not sopping. Press the sponge onto the surface of the bricks to clean any excess mortar and return the bricks to their original cleanliness. Allow the mortar to cure for an additional 24 to 48 hours.
Things You Will Need
Safety goggles

Work gloves

Chisel

Hearing protection

Dust mask

Stiff brush

Sand

Mortar

Shovel

Large bucket or wheelbarrow

Mortar dye

Trowel

Sponge