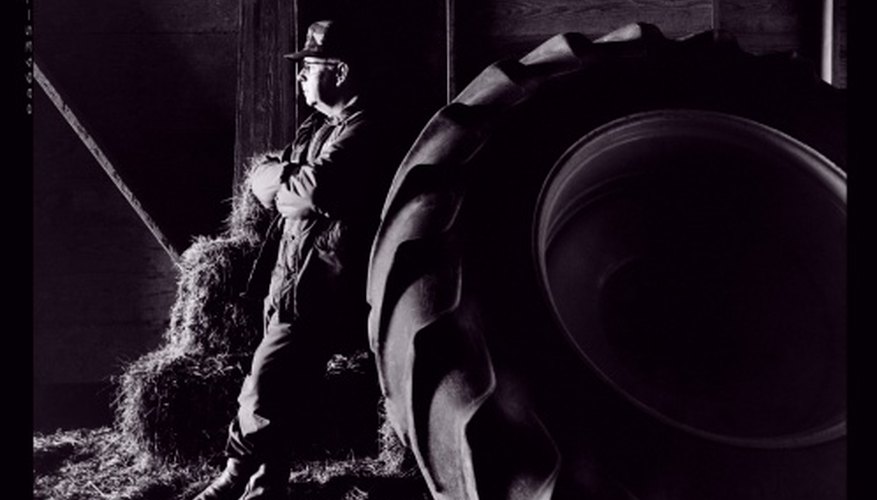 Recycle an old tractor tire by making it into a feeder for animals. Animal feeders can be made simply by cutting the tire the long way to make two feeders. Large tractor tires can be made into large animal feeders which are great for cattle; small lawn tractor tires can be made into feeders for small animals such as chickens. Just make sure the wheel and inner tube have been removed from the tractor tire.
Cut the tire the long way around the middle with a sharp utility knife, hacksaw or tin snips. You want to have a top and bottom piece. Wear leather gloves.
Separate the top and the bottom and set them so the insides of the tires are facing up. Use a garden hose to spray the insides out with water. Scrub the entire tire with mild dish soap and a sponge to remove any powder residues from the inner tube or contaminants that could have gotten into the tire. Rinse the tire completely with water and let dry or dry with a towel.
Measure out rubber or plastic tubing so that it is the length of the circumference of the tire. Cut the tubing the long way down the center with scissors. Clean the tubing inside and out with water and a mild dish soap.
Cut away any rough edges of the tire with a utility knife, hacksaw or tin snips. Create a smooth edge on the tire by slipping the cut rubber or plastic tubing around the cut edge of the tire; this will protect the animals from being snagged by the tire. Tape the tubing to the tire where the ends meet and every foot with a waterproof non-toxic tape. Repeat for the second tire half if desired.
Fill the inside of the tire with animal feed.