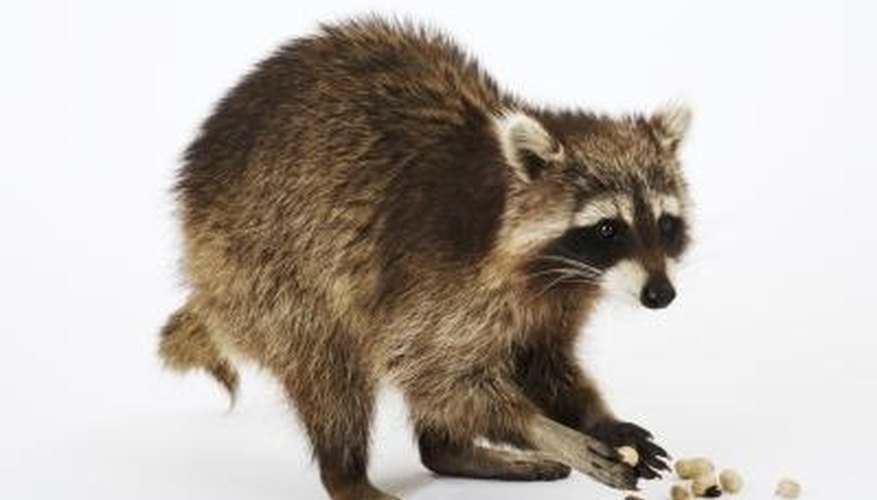 Wildlife and human expansion often clash, creating instances in which humans find themselves uncomfortably face-to-face with nature. If you find an unwanted visitor in your home or shed, it can seem like a nightmare. Raccoons are exceptionally difficult to remove, as some removal procedures are illegal in certain areas. However, they are common pests, sometimes even entering homes through pet doors. There are a number of raccoon removal steps you can take.
Secure all trash can lids with bungee cords. Remove any outdoor food left open for pets, deer or squirrels. If the raccoon is unable to easily access a food source, he may leave on his own.
Set a steel trap that is at least 10-by-12-by-32-inches in the back or near the door of your shed. If you know how the raccoon gets in, or you know where it likes to sit in the shed, set the trap there. Be sure that the trap is in a shady area, or provide shade for the trap; otherwise the trapped animal can overheat or dehydrate.
Clear an area at least 6 inches on all sides of the trap. You must set the trap away from any obstructions, such as fences, lights or porches. When the raccoon is trapped, it will panic and grab, scratch and destroy anything nearby.
Line the bottom of the trap with leaves, newspaper or another soft material so that the raccoon does not become scared when walking on its floor. The trap should also be completely flat or flush with the ground; if it rattles or shakes when the raccoon steps in, the animal may flee.
Bait the trap with marshmallows, eggs, bread or other common human food that does not include meat. If you use meat to bait the trap, you may catch wandering cats or stray dogs that can become injured in the trap.
Check your raccoon trap at least twice per day, including first thing in the morning. If you catch a raccoon, do not allow your fingers to cross into the cage or the animal will bite you. Carry the trap at least 6 inches away from your body.
Relocate the raccoon in an approved location at least 10 miles from your house.