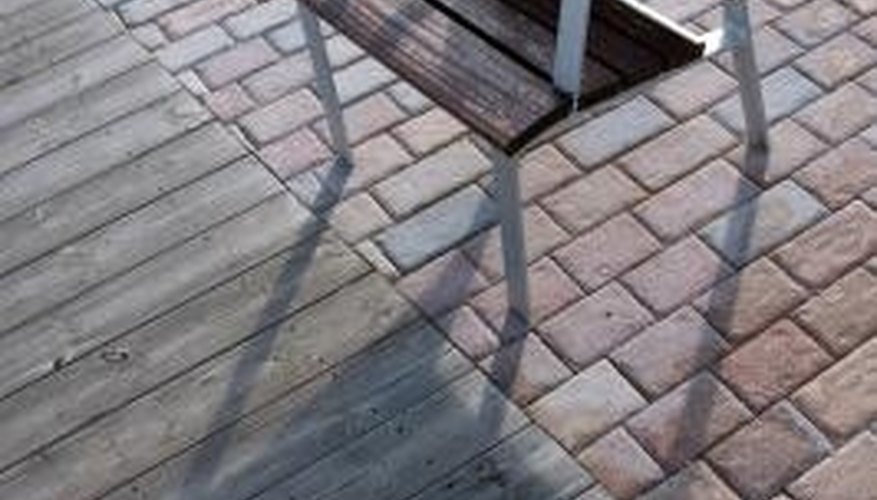 A brick patio is a nice feature for a house and gives the yard area some character. However, the brick itself can be fairly slick when wet. The last thing you need is to have the slipperiness of the brick increased by the addition of algae. Algae grows in wet dark areas, and can cause someone to fall if they step on it in the wrong way. The porous nature of shaded brick patios make them a perfect home for algae if moisture is not controlled.
Cut out limbs of trees that are casting constant shadows on the brick patio. The shade is giving the algae the environment it needs to grow by allowing moisture from rain, lawn watering or morning dew to collect. Sunlight will dry up wet or damp areas more quickly.
Check for cracks in mortar between bricks and cracks in brick. Pull up broken bricks or bricks around broken mortar, and replace the material. Water can seep down into these dark places and grow algae and moss, which can spread up and out of damaged areas.
Apply a sealer to the patio to prevent moisture from soaking into the concrete. Mortar is absorbent and holds moisture. A seal can help with this. If you are worried that the sealer will create a slippery patio, and someone in the home is elderly or not good on his feet, this is not a recommended step.
Clean off algae on the bricks with a solution of two parts bleach and eight parts water. Use a scrub brush. The bleach will kill algae.
Pour a salt solution on the patio and in any cracks that you find. Make it a heavy mixture of about 1 part salt to 2 parts water. The salt will kill any algae that is on the patio and prevent it from growing back in the cracks. It will also soak into the mortar and prevent algae there as well.