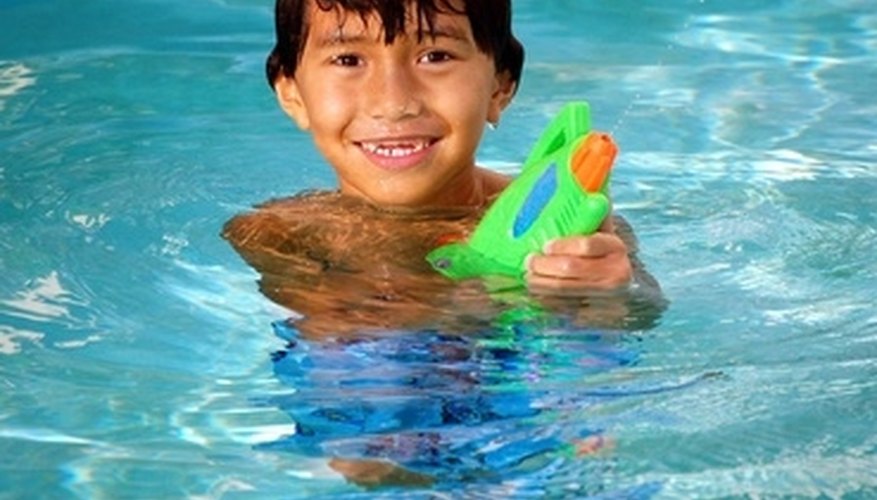 Saltwater chlorine generators allow pool owners to operate above ground pools by adding salt instead of chlorine. The generator uses the salt to produce chlorine and maintain the proper chemical levels of the pool. Pool owners claim saltwater pools are gentler on the body and suit, easier to maintain and cheaper to operate. Several saltwater chlorine generators are on the market for above ground pools. Selecting yours is a matter of personal preference, but all are designed for the pool owner to install without professional assistance by following the enclosed instructions. After you have selected and installed your chlorine generator, the process of using saltwater for an above ground pool is not labor-intensive.
Calculate the water volume of your above ground pool. If your pool is rectangular, multiply the length times the width times the depth. If your pool is oval or round, measure the diameter, the distance from one end to the opposite end measured in a straight line directly through the center. Multiply the diameter times itself times 3.14 (π) times the depth.
Check your salt chlorine generator guide to determine how much salt to add for your pool volume. Different generators operate on different amounts of salt, but in general you will need 26 pounds of salt for 1,000 gallons of water. Add the required amount of salt to the above ground pool as evenly as possible.
Distribute the salt by brushing the bottom of the pool gently with a pool brush for 30 minutes. Leave the main pool pump on to circulate the salt throughout the pool. It will take between eight and 24 hours for the salt to completely dissolve.
Plug the salt chlorine generator into its power source and turn it on. Run the unit until the free chlorine level is between 1 and 3 ppm (parts per million), usually at least a day. Test this level by dipping a test strip into the water. It will change color. Check the color of the strip against the chart on the test strip case to determine the ppm.
Test the chlorine level weekly and the salt levels monthly with a salt test kit, even if the salt chlorine generator includes a salt display. The ideal salt level is 3,000 ppm, but should fall within 2,700 to 3,400 ppm. Add more salt as needed or drain off some saltwater and replace with fresh if the salinity is too high. Decrease or increase the amount of time your salt chlorine generator runs each day to lower or raise the chlorine levels in your aboveground pool.