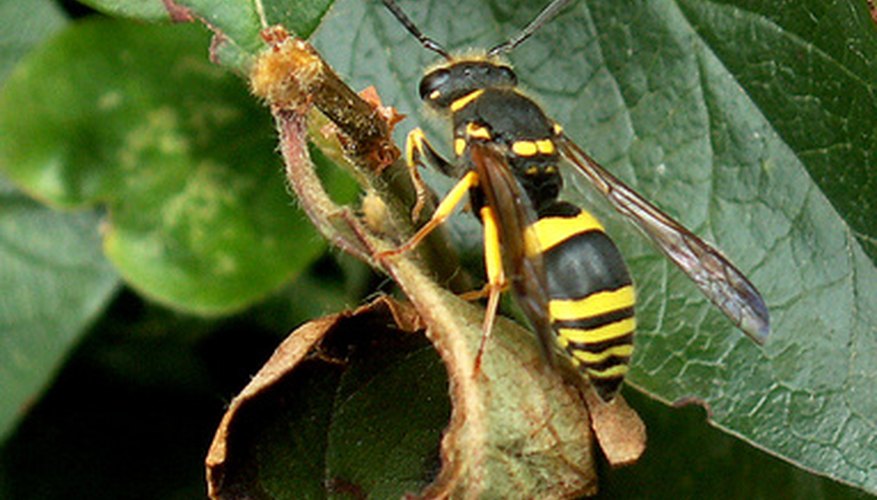 Digger wasps are not only a frightening pest, but also a nuisance to your lawn and garden. These wasps lay their eggs during the late summer in the soil, where they lay dormant during winter and emerge as adults in spring. Digger wasp nests leave large, gaping holes in your lawn. Although typically not aggressive, they can sting if stepped on or otherwise provoked. Killing digger wasps without harmful insecticides can save your lawn and keep your family safe.
Watch the nesting areas from a safe location. Stand inside a garage or shed and look out over the lawn, making a small map on a piece of paper to designate potential nest locations.
Wait until the sun sets and examine locations marked on the map. Look closely at the ground with a flashlight, locating each circular nest mound. Wasps rely on the sun to regulate body temperature, and as the sun goes down, their bodies go into a semi-dormant state, which reduces the chance they will attack.
Coat the ground around each hole with diatomaceous earth. Diatomaceous earth is a natural compound made from the shells of ancient crustaceans that penetrates the body of the wasp and causes death by dehydration. The wasps crawl through it as they exit the nests and die within 24 hours.
Pour 1 cup of ammonia into each hole, and plug the hole with a golf tee. The ammonia filters down into the nest and suffocates the wasps, while the golf tee prevents them from escaping.