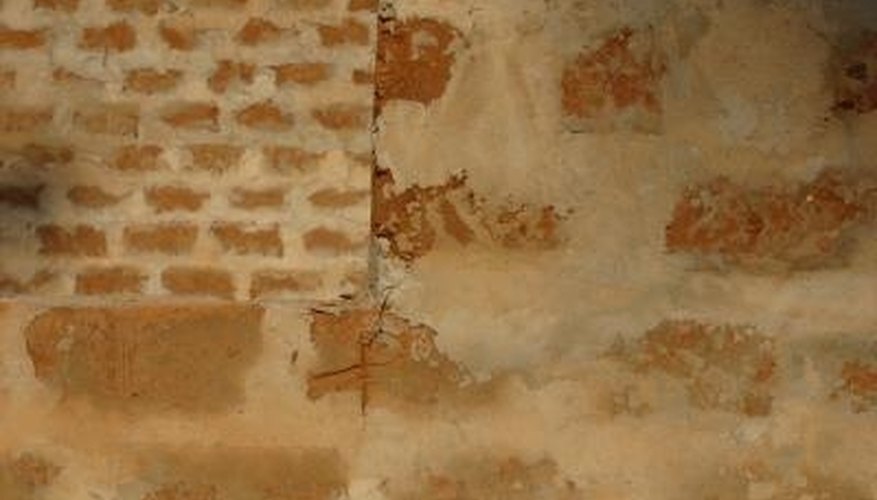 An old brick fireplace can be an attractive addition to your family room or it can be an eyesore. Because it frames the fireplace, the brick is a distinct and highly visible part of the room. If the brick appears shoddy, your fireplace can be a constant source of irritation. You can use stucco to mask the old, unwanted brick. The stucco is applied directly over the brick and fills in the spaces between the bricks to create a smooth, even wall surface.
Vacuum the brick wall with a shop vacuum cleaner to completely remove all particles and debris. Small pieces of loose mortar can interfere with the stucco.
Paint the brick with a concrete bonding agent. Apply a thin, even coat with a paintbrush. Let the bonding agent dry according to the package instructions.
Mix pre-mixed stucco and water in a wheel barrow. The mixture should form a thick paste. Mix roughly 2 gallons of stucco at a time to prevent it from drying out before you apply it to the wall.
Scoop up some of the stucco with a trowel and spread it onto the brick wall. Let the stucco paste sink into the spaces between the bricks and spread 1/4 inch of stucco across the top of the brick. Let the stucco dry until partially hardened.
Run the notched edge of the trowel over the top of the stucco to create a scratched surface. Do this across the entire fireplace wall. Let the stucco continue to harden for 48 hours.
Mix the finish stucco with water until it forms a thick paste. Apply 1/4 inch of stucco to the wall with a trowel. Smooth the paste with the trowel. Apply pressure with varying force to create a wall texture that you like. Spray periodically with water to keep the stucco moist as you work. Let the stucco harden for 48 hours.