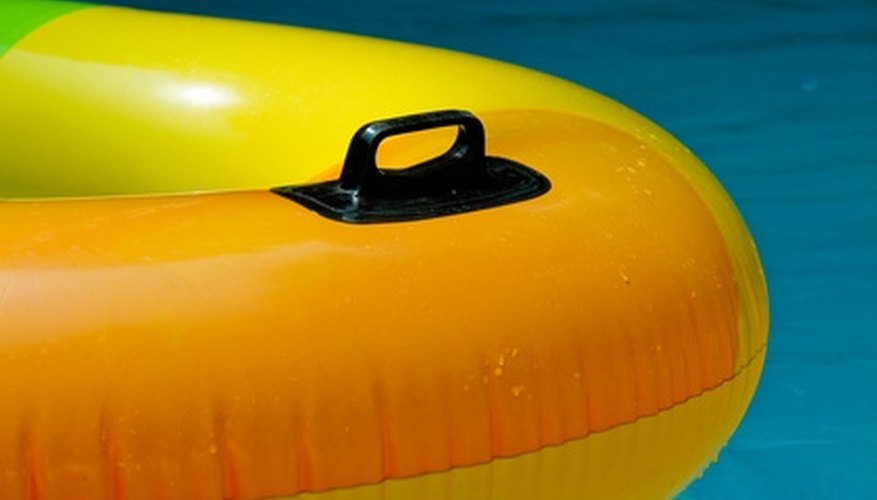 Maintaining a plastic pool is important not only to protect and prolong the usable life of the pool, but to keep the people who swim in it safe and healthy. Standing water in a pool can lead to a proliferation of algae and bacteria and can attract egg-laying insects. You can prevent this from happening with just a few tools and chemicals you can find at a pool supply shop or a grocery store.
Fill the pool with water and determine how many gallons the pool contains by measuring the width across the center of the pool, or the length and width of the pool. Measure the depth at the water line and enter your measurements into the calculator in the Resource section. Click the "Step 1: calculate gallons" button.
Click "Step 2: calculate doses" and copy the information on how much of each chemical you should use and how often it should be added.
Add the prescribed amounts of bleach and borax. Allow the water to stand for an hour then test according to the test kit instructions. Pool Solutions recommends that the chlorine level be 3 or higher and the pH be 7.4 or higher. If the levels are low, add the recommended starting doses again and retest.
Add the prescribed amount of algaecide once the chlorine and pH levels are correct. Maintain the levels by adding dichlor powder daily and the algaecide twice a week.
Add the recommended amount of bleach after each use and scrub the pool with a plastic brush.
Test the pool before using again. Add another dose of dichlor powder if the chlorine level is below 2.
Dump the water from the pool at least once a week. Refill and treat the water with the start-up doses, then test and maintain as described.