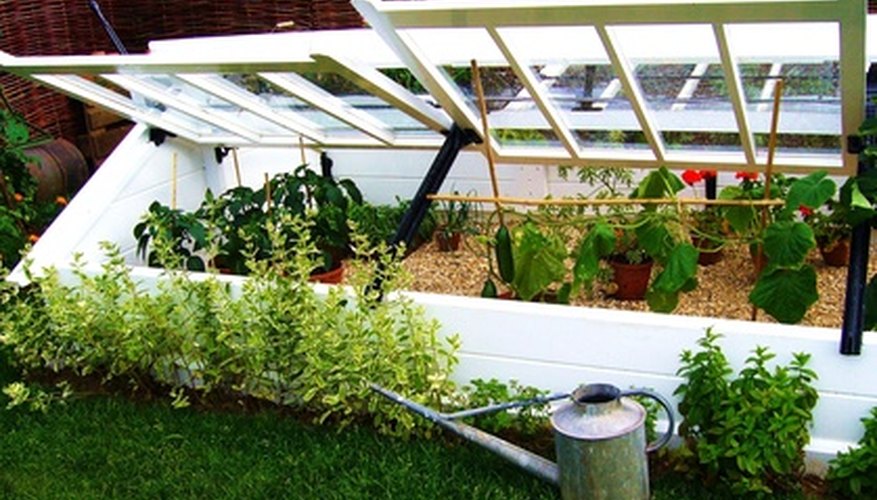 A mini greenhouse is any small, portable greenhouse suitable for starting seeds or holding bedding plants. A mini greenhouse may range from a small cold frame to a plastic covered shelving set or a tabletop cloche made of glass or hard plastic. Because of their size, mini greenhouses may not be heated by traditional means, such as forced air heaters. Instead, you can heat a small greenhouse using traditional, natural methods.
Step 1
Move your mini greenhouse to the south side of a fence or brick wall, which keeps it in the sun and puts the structure between it and the north wind. The structure will reflect heat into the greenhouse as well as absorbing heat throughout the day and radiating it at night. This will help to keep your greenhouse warm.
Step 2
Paint plastic milk cartons black, then fill them with water and place them throughout your mini greenhouse. The black cartons will absorb solar radiation during the day, which will heat the water inside. At night, the warm water will release its heat into the air, which will warm the greenhouse. This technique is known as heating by thermal mass.
Step 3
Cover the exterior of your mini greenhouse with layers of bubble wrap. The bubble wrap will serve as insulation to help hold warm air in the mini greenhouse at night. During daylight hours, the clear bubble wrap will let sunlight pass through to heat the greenhouse.
Step 4
Dig a hole at the mini greenhouse location that is 3 feet square and 18 inches deep. Fill the trench with an equal ratio of manure, such as chicken droppings, and straw. Soak the mixture so that it is as damp as a wrung-out sponge. Cover the trench with the floor of your mini greenhouse. As the manure decomposes, it will release heat to warm the greenhouse.