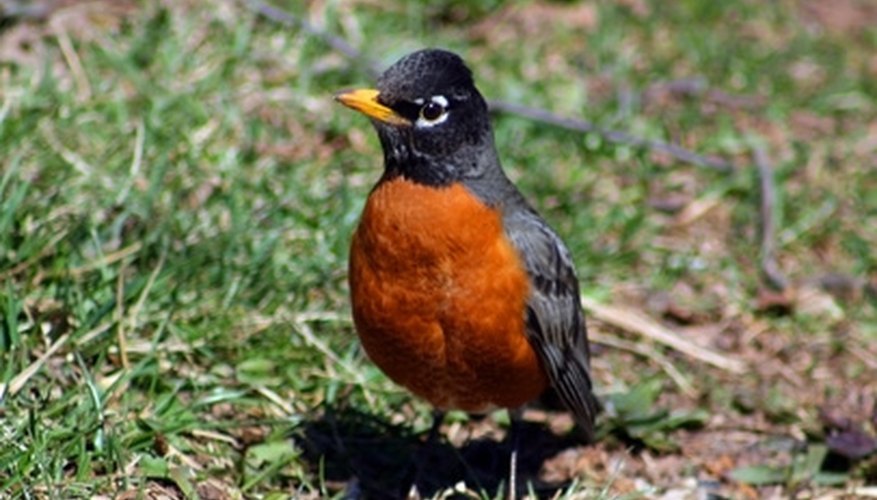 Robins are a perennial favorite of many birdwatchers. The arrival of robins in the beginning of the year is an indication that spring is near. At that time, the birds will look for locations to build nests in preparation for raising young. Unlike other birds, such as bluebirds or wrens that prefer fully-enclosed bird houses, robins like open platform-type houses, which provide a much wider field of view from the nest. You can build a simple house from parts made from a 1 x 10 inch pine board and some simple tools.
Cut a 13-inch by 9 1/4-inch section from the pine board with the jig saw. This will serve as the back of the house. Cut a 8-inch by 7-inch board for the floor of the house and a 8-inch by 8 1/2-inch board for the roof.
Cut two 8-inch x 6-inch boards for the side walls. Place both boards together and align the edges. Cut one of the short ends starting at the corner at a 10-degree angle. Cut a wedge-shaped section out of one of the long sides of both boards.
Drill a mounting hole in the middle of the back board of the house about 1 inch from the end.
Center an 8-inch edge of the floor board against the side of the back board about 1 inch from the end without the mounting hole.
Nail through the back of the house into the edge of the floor of the house with three evenly spaced finishing nails to fasten the two boards together.
Place the long edge of one of the sides against the floor and the back board along the outside edge. Fasten that board in place with four finishing nails. Repeat this step on the other side with the other side board.
Place the roof board on top of the side boards and against the back board. Fasten the roof board in place with four finishing nails. The robin house is now ready to mount.