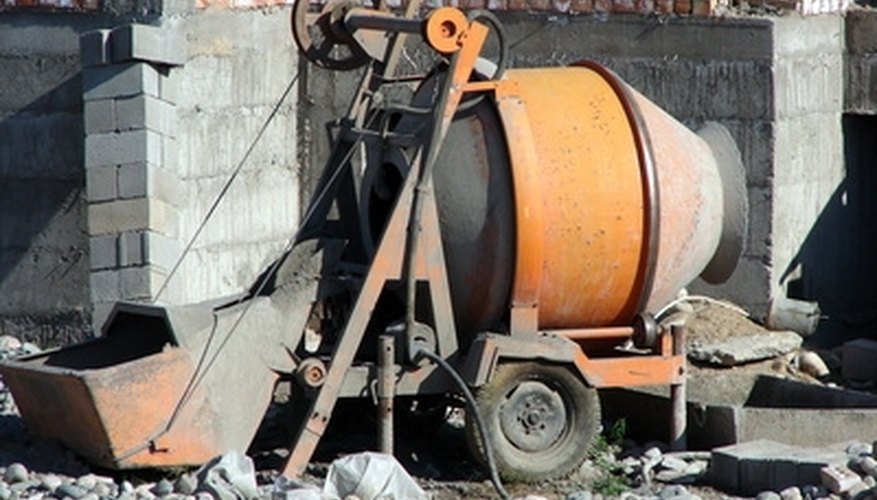 There are a number of ways to clean a cement mixer. The cleaning process you use will depend on whether the cement mix is fresh or old. Fresh cement can be removed with basic water, a stiff bristled brush and if available, a hydro stone. Hardened cement mix requires the use of chemicals, a chisel and a hammer to remove. Acids such as hydrochloric or muriatic can be used to remove hardened cement mixes, but they may be dangerous to you and the environment if you don't follow the proper usage procedures. Natural corrosive are also available.
Place the cement mixer in a shaded area when you are using it to help prevent the cement mixture from drying. Moisten the surface and inside portion of the mixer with a water hose repeatedly when using it to prevent the build-up of hardened cement.
Spray the cement mixer surfaces with a basic garden hose or for best results, a high-pressure hose with a 500-3000 psi rating to remove the fresh cement mixture. Scrub the mixer's outside surfaces with a hard-bristled brush to remove patches of fresh cement.
Pour crushed rock or hydro rock into the cement mixer. Spray water from a hose into the mixer and turn the power on, allowing the stones to scrape away any leftover cement residue. Pour the rock and water mixture out of the mixer when the inside is clean.
Mix the chemical solution to be used to remove hardened cement on the mixer. Follow the chemical manufacturer's recommendations regarding safe handling of the product.
Saturate the cement surface by applying the chemical solution with a basic garden hose sprayer, bucket and brush or a spray can with a wand. Allow the chemical product to absorb into the hardened cement for the manufacturer's recommended amount of time.
Spray the chemically treated cement with a basic garden hose or high-pressure hose with a 500 to 3000 psi rating. Repeat the steps if needed to remove heavy amounts of dried cement until surface is clean.
Properly dispose of any harsh chemicals, such as products containing hydrochloric or muriatic acids, following county and state regulations.