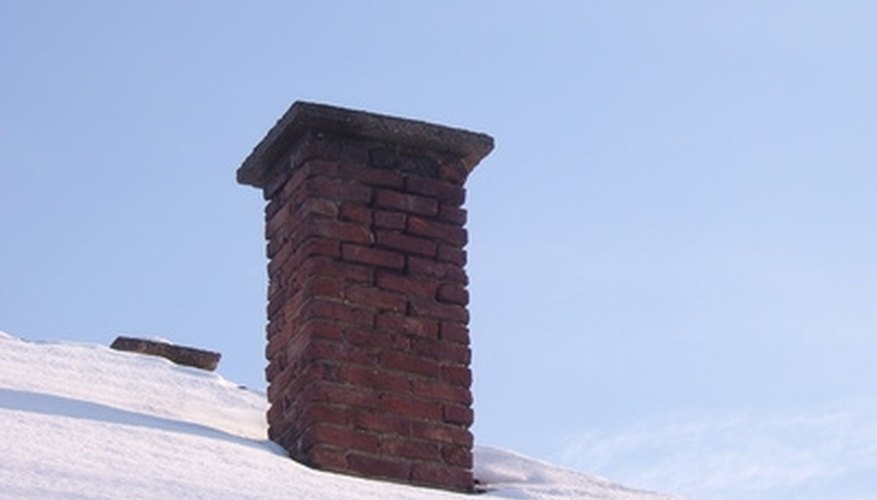 Cracks in your chimney may appear due to old age, wind damage or bad masonry. Small hairline cracks in the mortar holding the bricks together may indicate some shrinkage occurred after the builder placed it. Settlement of the house may cause cracks or breaking of the brick as well. Crumbling brick may clog the inside of the chimney and can reduce the efficiency of the chimney. If your chimney is new, ask the builder to fix the problems. If it's not new, you can make the repairs yourself.
Missing bricks
Remove any loose crumbs of mortar from the chimney using a hammer and chisel. If a brick is badly broken, remove it as well. Check to make sure the damaged areas do not go all the way back to the clay flue liner inside the chimney.
Mix together two parts sand and one part portland cement in a wheelbarrow with water, according to the directions on the cement bag. This is your new mortar. Follow the directions on the bag to get the right consistency.
Pick up a trowel of mortar and place a 1/2-inch thick layer of mortar onto the end of the first brick you are putting in place.
Place a pile of mortar onto the area where you are laying your brick. It should be about 1 1/2 inches thick.
Place the brick with the mortar on the end and butt it against the brick that is already in place. Press down on the brick so there is only about half an inch of mortar remaining underneath it. Use the flat end of your trowel to scrape away the excess mortar that squeezes out.
Spread mortar on three side of a brick that is going into a hole in the chimney, such as in an area that is only missing one brick. Slide the brick into place and use the flat edge of your trowel to scrape away the excess mortar.
Repairing Cracks
Knock out any cracked mortar from between the bricks using a cold chisel and hammer. Break out about half an inch of mortar along the brick.
Wet the brick and mortar left behind to rinse away mortar dust and prepare the brick for the repair.
Scoop mortar onto a pointed trowel and slide it into the cracked area. Hold another trowel or a piece of scrap wood beneath the area to catch any falling mortar. Smooth it out with the flat edge of the trowel.