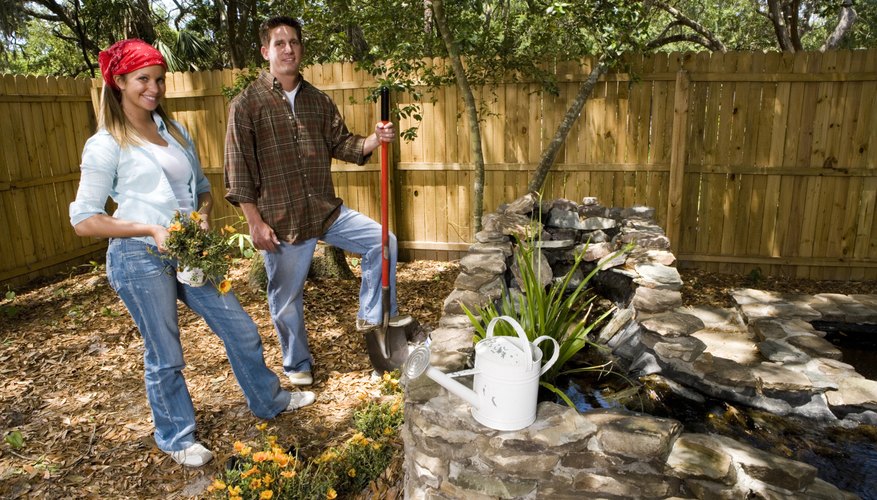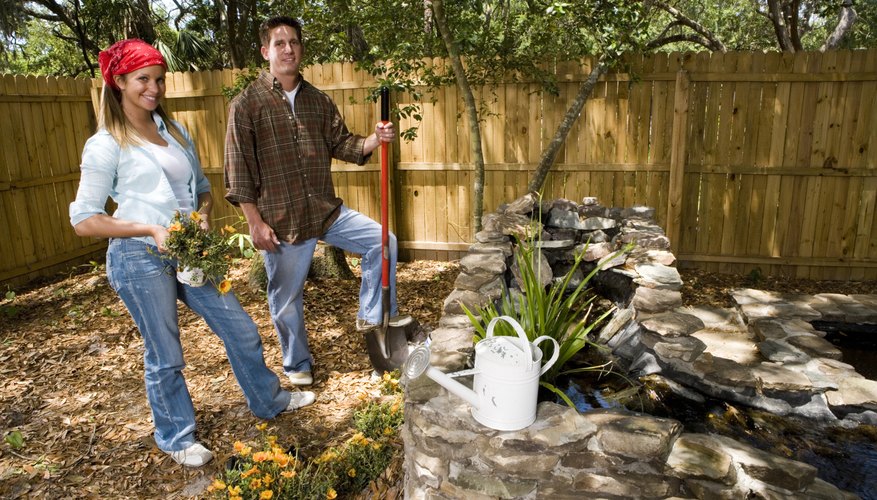 When you look at a barren back yard, it may be tempting simply to load up with plants from a nursery and start digging. With a little planning, however, you can create a thriving back yard landscape that is simple to care for and enjoy for years to come. Small or large, the yard will benefit in the long run from the preparations you make before you put down hardscape and install flowering plants.
Analyze the Site
Look at the back yard during different times of the day to determine which areas receive the most shade and which areas receive the most sunlight. The amount of either changes with the time of year, whether or not deciduous trees are in or near the property.
Find the sunniest spot in the yard, and put flowerbeds and vegetable beds there.
A back yard that blazes with hot sunshine in summer benefits from the planting of shade trees on the southwest corner of the house.
A nice view of the surrounding landscape is something to preserve or frame, not to obscure with large plants. Check what you see from the back yard and from inside the house. Unwanted views or privacy issues are often corrected by putting the right plant in the right place.
Start with the Soil
In order for your landscape plants to succeed, it's important to determine what kind of soil your back yard has.
Take a handful of moist soil and squeeze it. If the soil ball falls apart easily with little pressure and has a gritty texture, then it is sandy. Silt loam feels smooth and keeps its shape but can be reshaped. If the soil feels slick and remains a sticky ball in your hand, then it's clay. Placing a 3- to 4-inch-thick layer of compost on planting areas then breaking it up and incorporating it into the soil to a depth of 6 inches improves most soil types.
Test the Drainage Rate
Testing the soil for proper drainage will help you determine how to proceed.
Dig a hole in moist soil, making the hole 12 inches deep by 12 inches wide by 12 inches long. Dig additional holes of those dimensions in several areas of the back yard.
Fill each hole with water. Ensure the water extends to the top of every hole. Note the time that you fill each hole with water.
Wait for the water to drain. Water may drain from some holes faster than from other holes.
If the water drains from a hole within three hours, then the soil in that location has very good drainage. A drain time of three to 12 hours means the soil has average drainage, which is fine for most landscape plants. A drain time of more than 12 hours indicates poor drainage.
If no physical barrier underground prevents water from draining, then the problem of poorly draining soil usually can be corrected by adding compost to the soil as previously noted. An option is build raised beds in which to put individual plants or gardens.
Create a Design
Start with a list of your needs and wants when you design and landscape your back yard. Such a list might include: play area, dog run, cut flower garden, vegetable patch and peaceful retreat.
To incorporate these elements into the landscape, create a plot plan that is to scale. A plot plan shows the location of the house and its boundaries, plus all other existing features, including hardscaping, such as a concrete patio, and plants. Design software programs are available for that task, but you can use measuring tape, a pencil, ruler and graph paper to draw an aerial view of your back yard from scratch. A 1/8-inch scale is commonly used, meaning every 1 foot on the property translates to 1/8 inch on graph paper.
Next, plug in your desired landscape elements to scale, keeping in mind sunlight, shade and other factors gleaned from the site analysis. Add any desired hardscaping, such a flagstone walkway.
Choose plants appropriate for your U.S. Department of Agriculture hardiness zone. Consider not only plants' color, texture and seasonal interest but whether they need direct sun exposure or shade and their mature sizes.
Small trees -- those no larger than 25 feet at maturity -- may be planted 6 feet from the house. Plant medium-size trees, which grow no more than 40 feet tall, 15 feet from the house. If a tree has a mature height greater than 40 feet, it should be 20 feet or farther from the house.
Once your design's elements have been installed, water your new plants regularly while they establish their root systems. Newly planted trees and shrubs need daily irrigation during the first month.
To check soil moisture, dig a small hole outside a plant's root ball and extending halfway down the root ball. Scoop out the soil, and squeeze it. Properly moist soil will remain in a ball in your hand. If the soil drips when squeezed, the plant is receiving too much water. If the soil crumbles when squeezed, the plant is not receiving enough water. Then poke the plant's root ball with your finger. It should feel moist. If it does not, adjust your watering to provide more moisture.