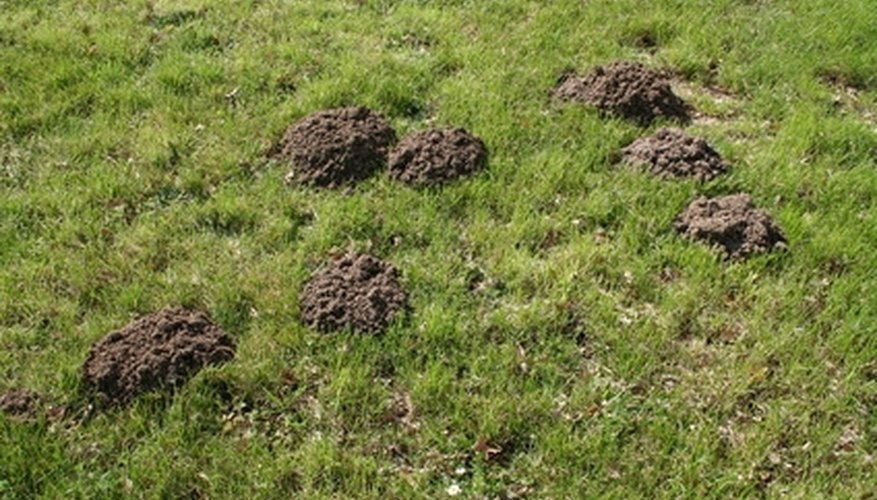 Moles in your yard are there because of a food source. Typically that food source is white grubs, earthworms, slugs and small invertebrates. Simply eliminating the food source may not eliminate the predator mole, however. In most cases, the amount of toxic chemicals required for completely removing all of the food sources may be extremely cost-prohibitive. There are a number of methods to control and eliminate yard moles. It may take you several attempts using various methods before you're successful, as moles can be difficult to eliminate from a location once they've found a good source of food.
Spray the castor bean oil product over the lawn surface following the manufacturer's label directions. This product is perhaps the most ecologically friendly method for getting rid of moles, as the castor bean oil does not kill the mole but instead drives it away. Repeat applications throughout the season, as the product will dissipate due to rain and irrigation.
Set poison bait in the mole's main tunnels. Compress the tunnels with your feet the evening before you set the bait. The following morning, the mole will rebuild the tunnels it uses the most often. Follow the baiting instructions on the package. Remember, poison bait is a toxic substance, so always exercise caution when handling it.
Install a harpoon trap over one of the main tunnels you identified in Step 2. The trap must be set in the evening, as the mole does most of its food hunting during the night. It may take several attempts to eliminate the mole or moles from the area. In most cases, if one mole is killed in the harpoon trap, there will be a few more left in the area. Follow the manufacturer's detailed instructions in setting the trap, as there are different types currently available on the market.