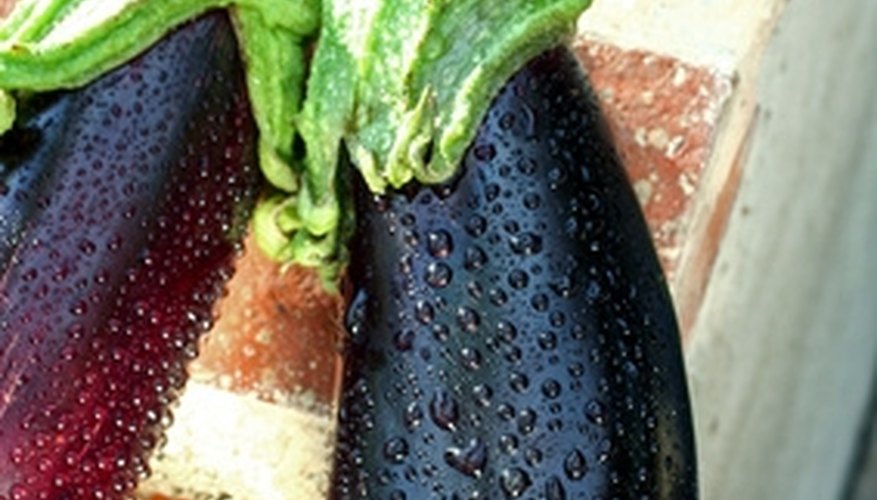 Eggplant is a popular vegetable grown in home gardens. This vegetable is related to the potato, but produces its fruit above the ground. Normal eggplants reach 6 to 9 inches long. Eggplants need support to keep their fruit off the ground. A trellis is the most practical way to keep eggplants upright. Adding a trellis to your eggplant garden protects your fruit from slugs, flea bites and rot. It also reduces the labor needed to harvest the eggplant fruit.
Pound two 6-foot wooden stakes 1 foot into the ground with a hammer. Space the wooden stakes 18 inches apart. This secures your trellis so that it does not fall over in a strong wind. You can reduce the height of your trellis by using shorter stakes.
Cut a 2-foot-by-4-foot piece of concrete fencing with heavy-duty wire cutters. Concrete wire has enough space between the wire mesh to pick your fruit if it falls through. Wear protective eyeglasses and leather gloves to avoid scratches and other injuries.
Wrap the long side of the wire rectangle around the wooden stakes. Attach the concrete wire to the stakes with heavy-duty construction staples and an electric stapler.
Bend any loose wires with a pair of pliers in toward the mesh to secure the ends so that they do not scratch anyone later. Plant your eggplant at the base of the trellis.
Tie the eggplant branches to the trellis with soft string as the eggplant grows. When the fruit starts to form, create slings out of soft cloth such as nylon or cotton T-shirts. Tie the slings on to the trellis, and lay the developing fruit in the sling.