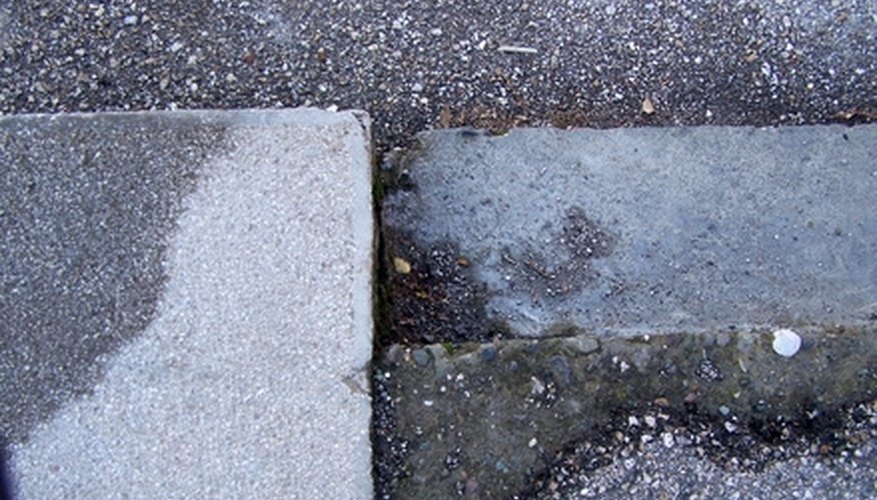 Concrete basement walls that are cracked and leaking need repairs almost immediately to avoid a constantly damp or wet basement, which could lead to mold growth. The longer you wait to fix the cracks, the larger they could become, resulting in problems only professionals can fix. Repairing smaller, more common cracks is a basic project that anyone can complete -- as long as the walls are not bowing or bending, which may indicate foundation problems that need professional assessment.
Hairline Cracks
Clean the crack and surrounding areas with a wire brush. Vacuum up all loose dirt, debris and concrete particles with the shop vacuum.
Mist on and around any hairline cracks with the spray bottle. Spray enough water to dampen the concrete without oversoaking it.
Mix the Portland cement with water in a bucket, according to the ratios are displayed on the cement package. The mixture should be the consistency of thick paste.
Dip a putty knife into the cement mixture. Apply the mixture to the hairline crackes, pushing as much of it into the cracks as possible. Smooth the cement level with the surrounding area, using the putty knife. Allow the patched cracks to dry for two hours.
Place a piece of plastic sheeting over the patched areas. Secure the plastic to the wall with duct tape.
Leave the patched areas covered for five days. Lift the plastic every day and mist the patched areas with water, then reattach the plastic covering.
Larger Cracks
Place the metal chisel into a freezer for at least one hour.
Take the chisel out of the freezer. Place the chisel into a crack. Tap the end of the chisel with a hammer to widen the crack and undercut it, so the bottom is wider than the top.
Brush all loose concrete debris and dirt from the crack with a wire brush.
Mist the cracked area with the spray bottle to moisten the concrete. Apply a thin layer of cement adhesive to the crack with a paintbrush. Follow the specific adhesive's directions for mixing the adhesive and drying times.
Fill the crack with ready-mix concrete patch, using a putty knife. Force as much concrete patch as possible into the crack. Smooth the area with the putty knife to match the surrounding concrete wall surface.
Cover the patched area with plastic sheeting. Attach the sheeting to the concrete wall with duct tape.
Leave the plastic in place for five days to cure the concrete. Uncover the patched areas once a day and mist with water, then recover them.