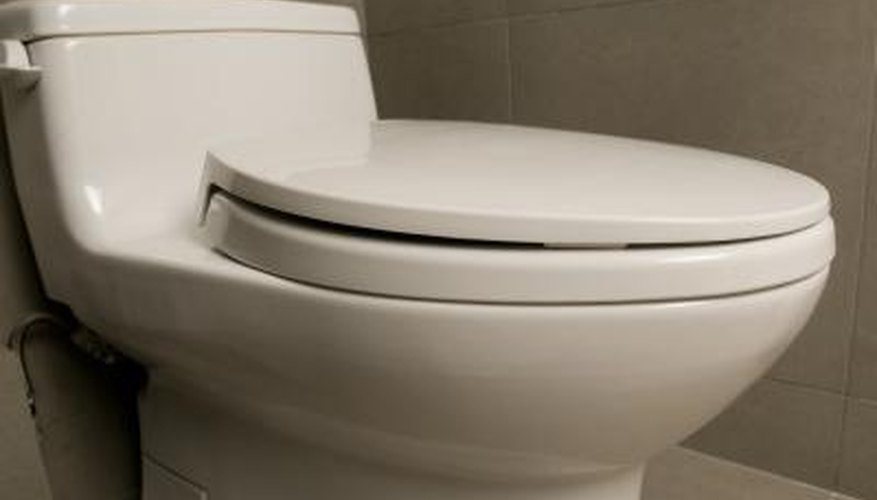 A toilet flange provides the connection between the toilet base and the drainpipe. The flange is secured to the floor with closet bolts, usually placed 12 inches from the finished wall -- called the toilet's "rough-in." Installing a toilet flange on cement, or concrete, is a straightforward job. You simply need to make sure you are using the correct tools for the job and have the correct fasteners to anchor the flange. If you choose a metal flange with a PVC base, you can simply glue the flange onto a PVC drainpipe.
Step 1
Draw a straight line across the flange from one slot to the slot directly opposite, using a ruler and a marker.
Step 2
Place the flange over the drain hole in the concrete floor, on top of the drain pipe below. Adjust the flange so that the line you drew is parallel to the wall behind the drain.
Step 3
Mark the concrete floor through the flange holes where the anchor screws will be installed, on either side of the drain opening. Mark either two or four holes with a marker. Remove the flange.
Step 4
Drill the holes you marked on the concrete, using a hammer drill with a masonry drill bit attached. Choose a masonry bit that matches the size of the concrete screws you will be installing.
Step 5
Apply PVC glue to the PVC bottom of the flange, and to the top of the PVC drainpipe. Lower the flange onto the drain opening. Position the lines on the flange parallel to the rear wall and make certain that the flange holes line up directly over the two or four holes you just drilled.
Step 6
Drive the concrete anchor screws through the flange holes, down into the concrete. Make sure the flange sits even with the concrete floor.
Step 7
Install the closet bolts into the slots in the flange. Arrange the bolts so that they are parallel to the wall behind the drain. Your flange is ready for the toilet installation.