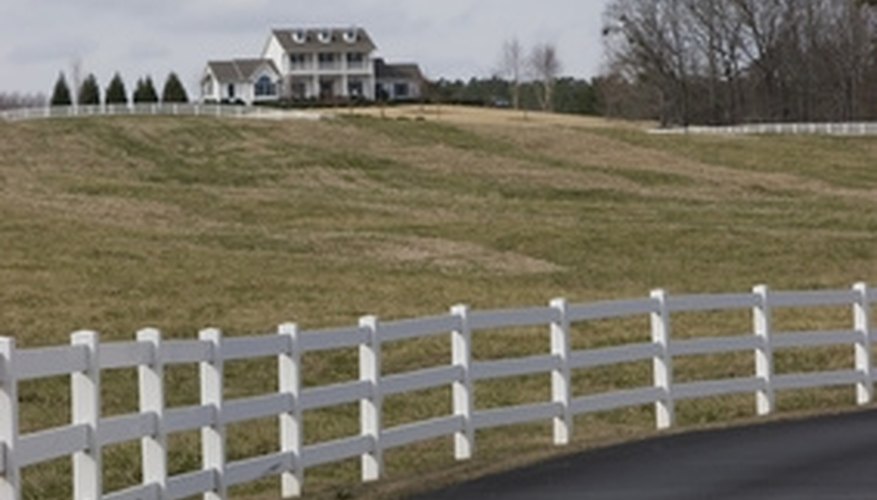 Concrete driveways are strong and can stand a wide variety of conditions. However, constantly fluctuating weather may cause damage to a concrete driveway. Water gets trapped underneath the concrete, and then freezes during the winter. The expanding water pushes up on the concrete. When the ice thaws, cracks or sink holes may appear. Cracking is common in driveways built without rebar. Although annual maintenance is often unnecessary, a concrete driveway will eventually need a few cracks repaired.
Break off jagged edges from the crack using a chisel and a hammer.
Drill into the bottom of the break in the concrete using a hammer drill to create a 1/2-inch hole. Drill down 3 to 4 inches. Cut a piece of rebar that fits into the hole, and insert it into the drilled hole. The rebar reinforces the concrete patch.
Scrape the inside of the crack with a wire brush, then spray with a pressure washer to clean excess debris out of the crack.
Mix a Portland cement mix together with water until it has a paint-like consistency. Apply the mix to the area that requires patching to create a bonding surface. The surface should be clean and slightly damp before applying the Portland cement mix.
Pour an acrylic concrete patch material from a bucket into the crack. Smooth it out using a trowel. Force the patch into the crack by running a board over the patch in a rocking motion back and forth. This forces the patch into all the crevices.
Allow the patch to sit overnight. Do not remove water that appears at the top of the patch. This is part of the curing process. Use a trowel to smooth the hardening cement.
Apply a resurfacer using a plastic squeegee once the patch has dried. A resurfacer protects the new concrete against moisture. Resurfacers are available from most hardware stores.