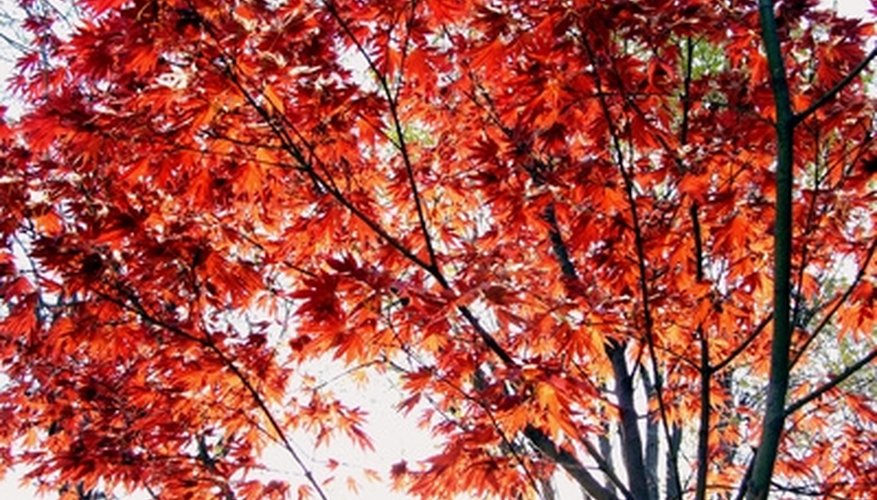 Trim the maple tree in your garden regularly to reduce its size, retain its shape, remove dead branches and enhance the appearance of the surrounding landscape. These deciduous majestic trees grow from 50 to 145 feet tall, forming a focal point in any garden. Trimming invigorates growth and revitalizes the tree so it grows healthy. Common types of maples grown in home and commercial gardens across the United States include sugar, silver, red, paperback, Japanese and Norway.
Remove dead branches and shoots from the large maple tree before cutting fresher growth. Use a sharp, clean pair of pruning shears and make straight cuts.
Snip off low-lying branches that touch the ground. You may need to lie on your back while removing these branches to clear an area up to 5 or 6 feet from the ground, making it easy for people to sit underneath or walk directly under. Also snip off crossing branches or those that rub one another, as frequent rubbing produces friction that punctures the bark of a branch, making it susceptible to disease.
Step back to review the tree after removing old, low-lying and crossing branches to get an idea of its existing shape and determine which selective branches you need to trim to reduce overcrowding.
Trim the larger branches first, using the double cut method that prevents splintering the trunk. According to the University of Purdue, make the first cut below the selected branch so it goes upward, a foot from the trunk of the tree. Then make the second cut downward a few inches out on the same branch to sever it. With the excess weight removed, cut the remaining branch flush with the trunk. Remove any stub left behind from the removed branch as it makes the tree susceptible to rot or disease.
Cut off all branches with V-shaped joints and leave those with U-shaped joints intact. The former are weak and crack easily. Snip off new shoots down to one-third or one-half of their original length.
Remove narrow, thin or weak branches near the top to open the crown and enable sunlight and good air circulation to enter the canopy. Inspect the nodes--the point where two or more branches meet--and cut these to thin the crown.