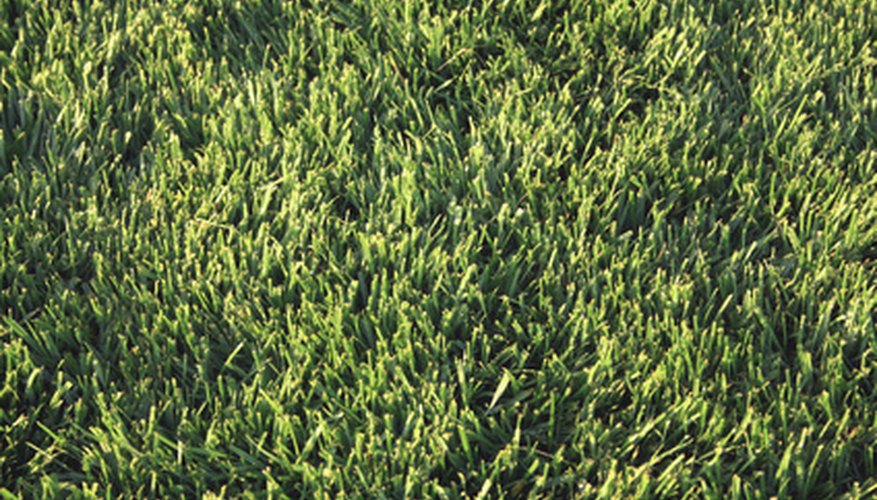 Caring for grass lawns can require a lot of mowing, weeding and watering, and even under the best of care, grass cannot grow everywhere. If you have a huge sprawling tree or protective awning covering your back yard, your grass will not get the sunlight it needs and will be unable to grow. Some homeowners turn to artificial turf, which provides the appearance and color of healthy grass while not actually growing. This turf requires little maintenance over time, and even features holes so that rainwater can drain through. Proper site preparation is the key to successfully installing this turf.
Remove all furniture, toys and other equipment from the area, if at all possible. This includes sprinklers, faucets and valves.
Use a shovel or sod puller to remove the topsoil. Dig until you reach the subsoil, which is generally three to six inches below the topsoil. This will improve drainage and will also ensure that your turf area is even with its surroundings. Check that the soil is completely dry before continuing.
Mix together equal parts sand and pea stone to create a gravel-type mixture. Fill in the missing topsoil area with this mixture. The sand and stone will allow for fast drainage of rainwater.
Compact the sand and stone mixture with a plate compactor, available for purchase or rent from hardware and home improvement stores. This will provide an even walking surface below your turf, and will stop the sand from shifting over time.
Inspect the surface for any holes or depressions. Any height variations greater than 1/8 inch should be filled or removed. Compact again if you make any changes, until the area is completely flat.
Place the roll of artificial turf on one side of your working area and roll it out to cover the area. If you have too much turf in one area, trim it with a utility knife. You can also use the knife to trim around trees or other obstacles.
Glue together any seams in the turf with outdoor carpet glue. Cut a 12-inch piece of seaming tape the exact length of the seam between two pieces of turf. Use a trowel to cover the entire piece of tape with glue. Line up each of the turf edge pieces in the center of the tape to adhere them together. Allow the glue 24 hours to dry.
Nail the turf firmly to the subsoil with four to six inch steel nails. Install a nail every two feet along the length of the turf and in each corner of the turf.
Fill in the artificial turf with sand to help weigh the turf down. Spread the sand with a seed spreader. Make one complete pass over the turf, sweep the sand into the fibers of the turf, and repeat the process.