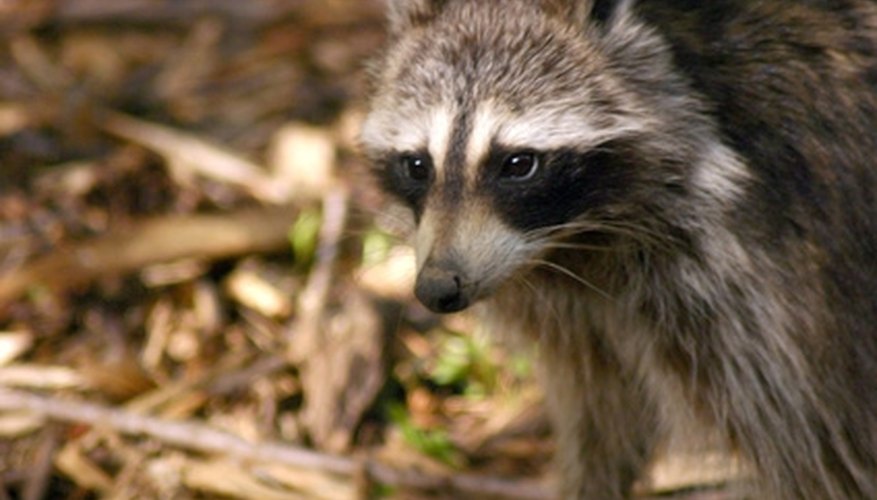 Raccoons entering your yard are more than just an annoyance. These small creatures are attracted to the scent of food and keep coming back, as long as you have food or garbage stored outside where they can reach it. The creatures also carry diseases, which isn't safe for you or your loved ones. Killing raccoons in your yard is one solution to the problem, but it requires the proper permits and tools.
Contact the forestry commission in your state or similar government agency in your area. The Yellow Pages or government phone book should have the number listed. Not only will you learn proper ways to kill raccoons in your yard but also about any rules or regulations to follow. The agency will also give you feedback about where to purchase traps and bait.
Purchase a hunting license if one is required in your area. Certain areas of the country, including parts of Georgia and Florida, require a hunting license to trap or kill raccoons. You may also need a permit to do such a job in your own yard. The forestry commission will inform you of any required permits or licenses.
Look around your yard and determine where the raccoons are entering. Raccoons typically enter your yard in search of food. You may notice raccoons congregating near your garbage cans or near any pet food left sitting outside. Even if the raccoons nest under your porch, the animals will still look for food.
Set your kill trap in the area where the raccoons live or nest. Bait the trap with food such as canned dog food. The scent of the food attracts the raccoons. When the raccoon steps into the trap, the mechanism is set off, effectively killing the raccoon.
Check the kill trap frequently, looking for any raccoons trapped inside. There's no guarantee the traps will completely kill the raccoons, especially if more than one enters the trap. When you do find a body, you need to dispose of it properly. The State Board of Animal Health in your state will advise you on disposing of such bodies. The phone number for the board is available in the phone book.