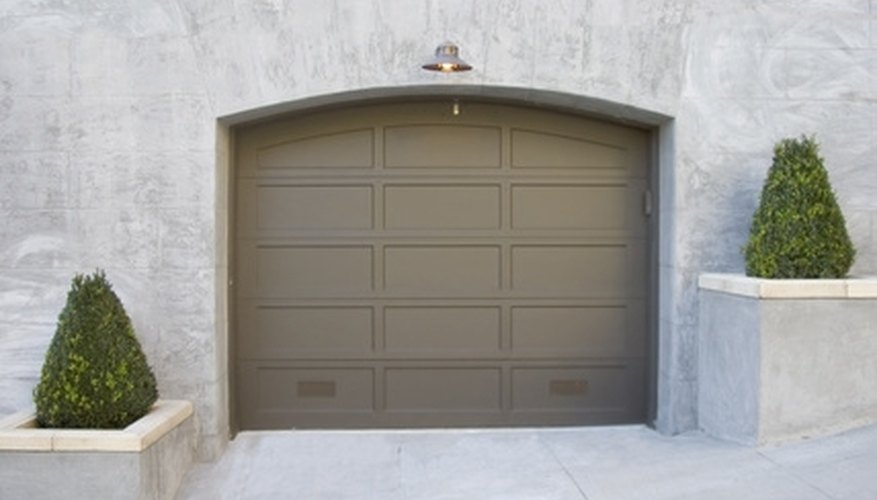 An oil spill in the middle of a concrete driveway can make the most well-kept home seem dingy. The Michigan State University Extension Service recommends placing a shallow metal pan under the offending vehicle to catch oil before it can stain the concrete, or spreading the area with sand or sawdust to absorb the dripping oil. If oil stains appear despite your efforts, you can lighten them enough as to be barely noticeable. Old stains require more work to remove than new, fresh stains. Attempt to remove them as soon as possible after they occur for the best results.
Sprinkle an absorbent powder such as baking soda or cornstarch over the oil spill, allow it to stand for 15 to 20 minutes, and scrub with a stiff brush to remove as much of the oil as possible. The powder will absorb any excess oil that has not soaked into the concrete.
Sprinkle automatic dishwasher detergent on the fresh oil spill, and leave on for about five minutes. Pour boiling water over the area, scrub with a stiff brush, and rinse thoroughly with a water hose.
Remove old or stubborn oil spill stains with trisodium phosphate, a heavy duty all-purpose cleaner. Put on rubber gloves to protect your skin, and sprinkle trisodium phosphate over the spill. If the area is dry, wet it with a water hose before applying. Let stand 15 to 30 minutes, scrub with a stiff brush, and rinse thoroughly.
Use a commercial grease solvent to remove any remaining oil. Apply to the area according to the manufacturer's instructions, and scrub with a stiff brush until the stain is gone. Repeat if necessary.
Combine one part sodium citrate, six parts hot water and six parts vegetable glycerin in a large bucket. Add one part fuller's earth, or enough to make a thick paste. Spread the paste over the oil spill, and allow it to remain for one week. Brush away dried paste with a stiff brush, and flush with water. Repeat as necessary. This method is a last resort for very tough stains.