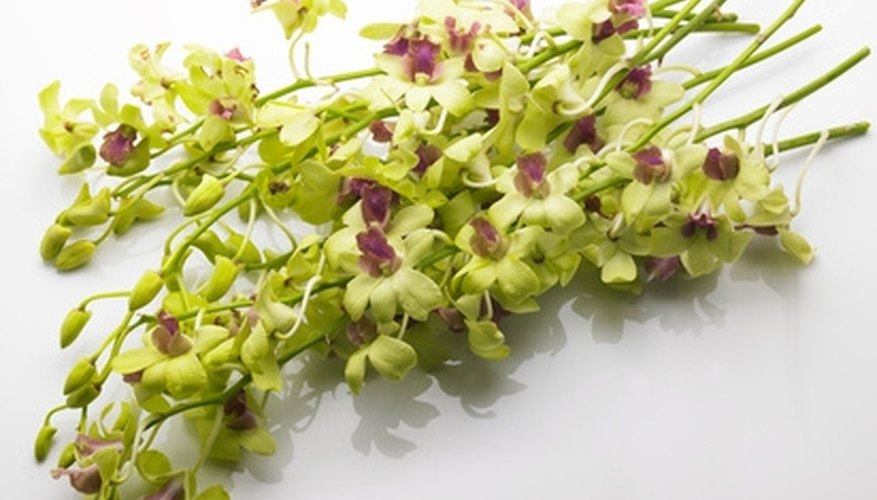 Properly caring for fresh-cut flowers you receive from the florist or buy at the market will extend the life of the arrangement by a number of days. Flowers normally include a packet of commercial flower preservatives, which you don't want to discard. Overall, the techniques for extending the life of cut flowers from the garden and those delivered by the florist or purchased from the market are similar.
Fresh Cut Garden Flowers
Schedule cutting in the early morning. Later in the day, flowers are less hydrated and more apt to wilt.
Fill a clean container or vase with warm water.
Cut the flower stem from the plant and immediately place in the water. Remove all foliage from the stem that falls below the water line. If the foliage decays in the water, it will accelerate the decay of the flowers.
Let the flower stems soak in the water for about two hours prior to making an arrangement.
Fill the vase with warm water and add some commercial flower preservatives to the water, following the instructions on the manufacture's label. Use this vase and water for your arrangement.
Fresh Cut Flowers From the Florist or Market
Empty and refill the vase with warm water and commercial flower preservative, following the instructions on the manufacturer's label.
Snip off one-half to one inch of each flower's stem, cutting it at an angle.
Return the flowers to the original vase, with the fresh water and preservatives. Foliage below the waterline should be removed.
All Cut Flowers
Place the flowers in a location out of the direct sunlight and away from heat generating appliances and lights. Keep out of drafts.
Replace the water with fresh warm water and preservatives every three days.
Trim another one-half to one inch from the stems when you change the water, again cutting at an angle.
Store the flowers in your refrigerator during evening, if possible, or move to a cool spot in the house.