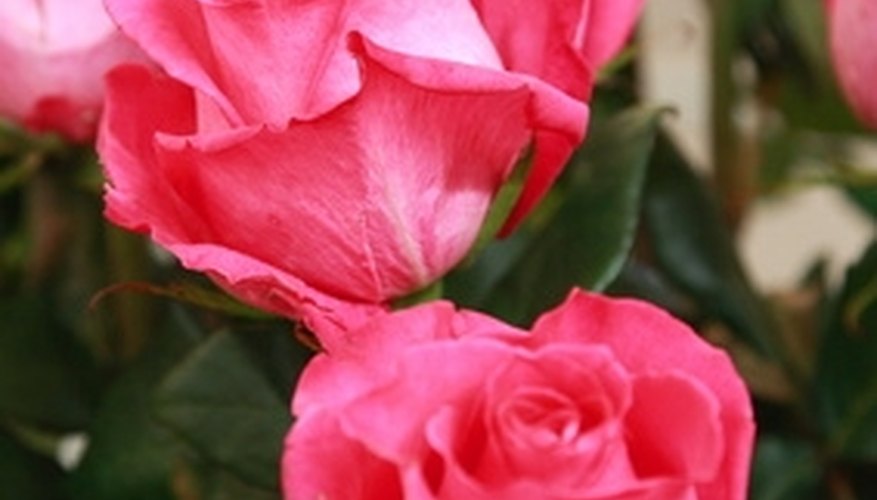 Roses bushes are popular and beautiful additions to flower gardens and yards. They are, however, susceptible to cold winter weather, winds and fluctuating temperatures. Selecting the right types of roses for your location is important when living in areas that are susceptible to colder winter weather conditions. In addition, proper year-long care of your roses may mean the difference when it comes to enduring the winter. Even the healthiest of plants, however, must be properly covered and protected from the effects of the elements.
Mounds
Wait until a hard frost has caused a majority of leaves to fall off. This will prevent you from covering the roses too early. If you prefer, wait until there have been several nights with temperatures in the teens.
Gather dirt from a location away from your roses to prevent digging into the roots around the rose plant or bed. Avoid using clay or soils that drain poorly.
Collect leaves and evergreen branches as your insulating materials. If you have access to it, you may also purchase or gather hay or straw. Save your gathered leaves in a sealed garbage bag, away from moisture.
Remove any foliage or debris from the plant. Tie all canes together to prevent them from whipping in the wind.
Mound the gathered soil around and over the bush. Continue to pile on the soil until it is 8 to 12 inches high.
Place chicken wire approximately 12 to 18 inches high around the entire mound. This will hold the insulating material in place.
Wait until the ground and the mound freeze. Cover the mound with the leaves, hay or straw.
Purchase a bushel basket that is large enough around to fit the mound that you have created. Remove the bottom of the basket. Flip the basket so that the bottom is facing up, and place it over the mound for additional protection against the wind, rain and rodents.
Rose Protectors
Purchase plastic cones that are at least 12 inches in diameter, or large enough to fit over the top of your rose bushes. Tie the canes of the bush together. Wait until the two hard frosts have occurred and the plant is fully dormant.
Cut several 1-inch holes at the top of the containers and around the bottom so that you have approximately four to five holes. This will provide ventilation and prevent the plant from growing too hot on warmer winter days.
Mound your soil and cut the canes to fit within the cone. Place a heavy stone or brick on top of the container to prevent it from blowing away in high winds.