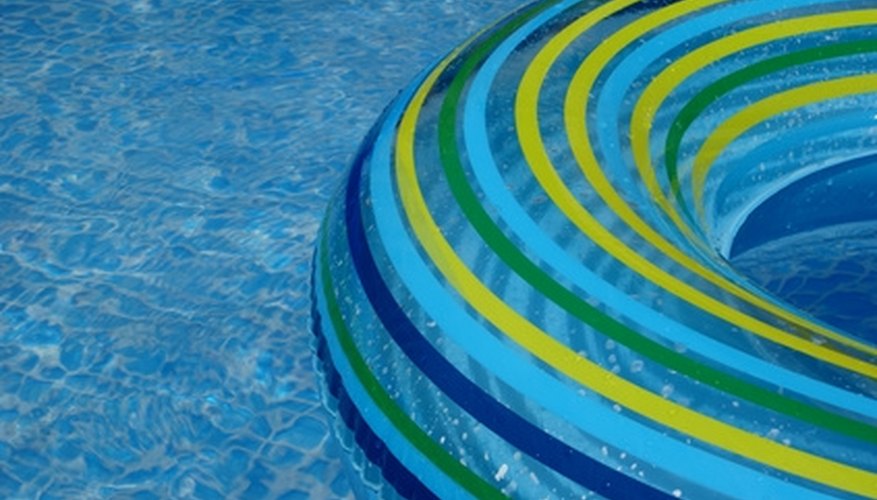 A leak in a soft-sided vinyl pool can drain the fun from your family's summer. Water pressure is the key in keeping the sides of an above-ground vinyl pool upright. Sagging pool walls, a dip in the water level of more than 2 inches per week, and a muddy surround are signs of puncture in the wall or floor of your pool. Whether it's a two-ring kiddie pool or a full-size above-ground swimming pool, a leak can be repaired in just a few minutes. You don't even have to drain the water, according to pool manufacturer Intex -- though you may get wet in process of making the repair.
Locate the leak by examining the exterior pool walls for a stream or trickle of escaping water. The ground will likely be more wet near the leak. If no leak or hole is found, check the seam between the wall of the pool and the floor of the pool by running your hand around the seam from the outside. Check for any obvious signs of damage on the floor of the pool. Put on a diving mask and get into the pool. Feel the floor for damage and check for small sinkholes. According to online retailer Pool Center.com, the sand or soil under the pool may wash away in the area of a small hole.
Clean the pool in the damaged area from both the interior and exterior by wiping away any accumulated algae with a sponge or rag.
Mark a small area of damage with a permanent marker so you don't lose track of its exact location.
Cut a circular patch from heavy-duty vinyl slightly bigger than the damage on your pool. Cut two patches if the hole is on the side of the pool, where you can access both sides of the hole. The vinyl patch material is usually included with your pool or in a purchased "wet patch" pool repair kit.
Apply vinyl cement to the patch. Fold the patch in half to protect the cement. Get into the pool and return to the mark made to note the damage. Unfold the patch and press it cement-side down over the hole. Smooth any wrinkles or bubbles out of the patch with your fingers. The water pressure will hold a patch in place on the side of the pool until the cement sets. Place a brick or other weight over a patch on the bottom of the pool.
Dry the exterior side of the leak on the pool wall. Spread vinyl cement over the second patch (if applicable). Apply the patch on the opposite side of the leak, so the hole is sandwiched between the two patches.