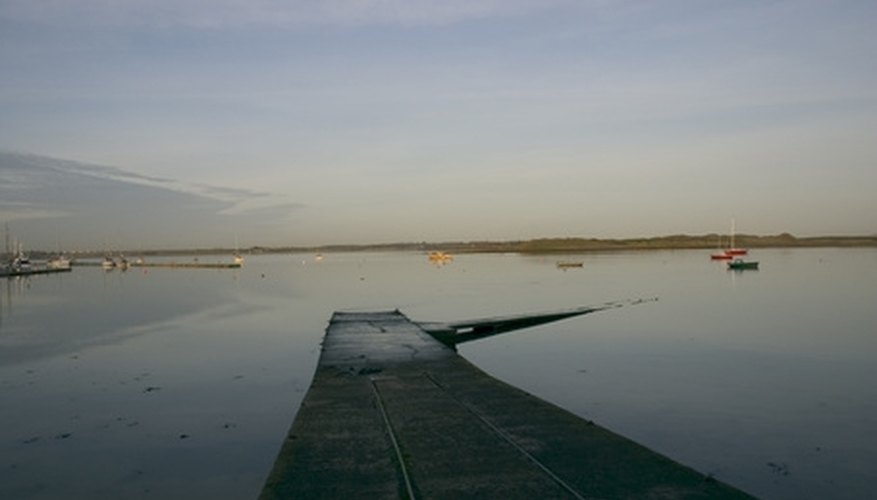 A marine or saltwater environment is devastating to normal concrete. The salt in the air or water degrades the integrity of normal concrete causing cracking and spalling; disintegration of the concrete. Once cracking and spalling occurs, the entire structure weakens. Using the correct type of concrete prevents these destructive and harmful outcomes. Pouring concrete in a marine environment is not overly difficult with proper procedures and implementation.
Pre-drill 1-inch holes every 12-inches along the side of 2-by 6- lumber. Lay 2-by 6 lumber to create the length and width of the project, place 2-by 6 lumber directly on the sandy ground; these are the forms that will hold the concrete in place. Lay pieces of lumber across the width of the form so each box within the box is no larger than 6-feet by 6-feet. Wait for low tide to build wood forms, which are bottomless boxes.
Use a sledgehammer to drive 2-foot lengths of rebar through the pre-drilled holes penetrating the sandy surface to hold the forms in place. Rebar is a thick metal rod.
Follow the bag directions carefully to mix specialized seawater manufactured concrete with an aggregate content impervious to salts, in a large trough or wheelbarrow--or schedule a delivery, depending on the size of the project. This type of concrete is available at masonry supply houses or via concrete delivery companies. The concrete mix is thicker than traditional concrete and has a lower air volume.
Bail water from the forms with a bucket or a submersible pump.
Pour the concrete mixture into the forms directly from the concrete truck feed or tip the contents of the wheelbarrow allowing the concrete to flow out.
Use a bull-float, which is a large trowel at end of a pole, to smooth and level the concrete.