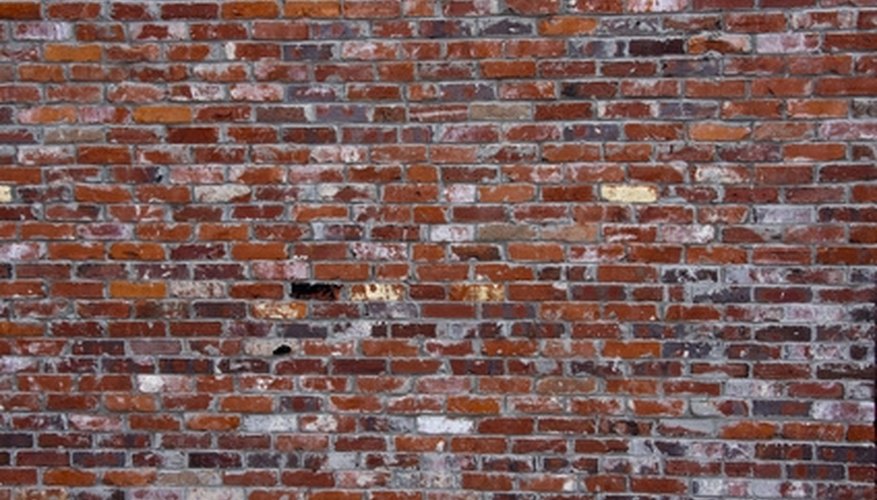 Brick foundation walls are strong and solid, but once they start to break apart and deteriorate they will lose structure quickly. If you find any deteriorating bricks or sections of brick in your foundation, you will need to repair them or have your entire foundation replaced by a builder. If you decide to fix the damages yourself, you can do it with only a little bit of effort. Working slowly and being patient with the mortar will ensure you an even, professional repair.
Brush away the loose pieces of brick with your hand. Use a stiff brush to remove any dust or bits that are left behind.
Make a mortar mixture by mixing the cement and the sand in a wheelbarrow. For every pound of cement you use, mix in two pounds of sand.
Use a shovel to combine the sand and cement very thoroughly, and then make a hole in the middle of the mixture with the shovel. Pour water into the hole you made in the mixture and stir it into a paste. You want the mortar to be as stiff as thick cake batter.
Wet the damaged area on the brick foundation with a spray bottle full of water. You just need to apply a light mist onto the brick to prepare the area.
Pick up a small amount of the mortar with a trowel and force it into the deepest part of the damage. If you can't get the mortar into a crack, use the tip of the trowel to spread the mortar in.
Spread another layer of the mortar on top of the filled cracks. Keep putting more mortar onto the damaged area until it is filled.
Spray the trowel very lightly with water on both sides and smooth out the mortar. You want to make it look even and consistent with the brick around it.
Once the mortar is dry to the touch, brush small crumbs of dried mortar away from the repair with the brush.
Hang a plastic sheet over the repair and lightly mist it once a day. After three days you can take down the sheet down and stop misting.