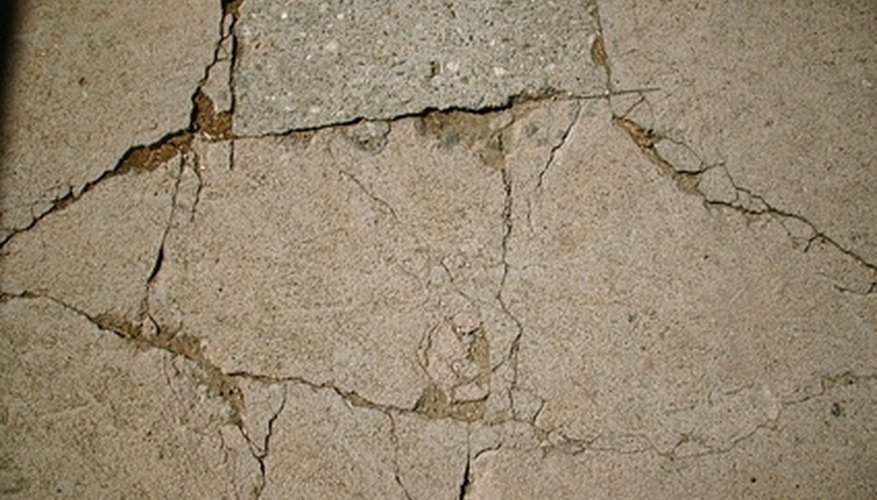 Concrete pads develop problems such as cracking and scaling, which is also called spalling; and a disintegration of the concrete, due to improper installation, incorrect concrete mixes or the use of salt on the surface. These problems are correctable and a new pad is not required.
Repairing Concrete Pad Cracks
Strike a cold chisel with a heavy ball-peen hammer along the edge of the crack to chip away loose concrete and create a straight line. It is easier to patch a straight lined area than a spidering crack.
Place the cold chisel at a 45-degree angle to undercut the crack and prevent the patch from lifting in the future. The crack needs to be wider at the base after chiseling.
Brush the edges of the crack with a wire brush to clean away debris. Sweep the debris out of the crack with a small broom.
Paint the edges of the crack with an epoxy-based concrete bonding agent.
Mix concrete according to the bag direction and fill the crack with wet concrete. Use a trowel to level the concrete with the existing surface.
Repairing Scaling or Spalling on a Concrete Pad
Use an 8-lb. masonry hammer to break up as much of the scaled area as possible.
Sweep away dust and debris. Use a stiff wire brush to further loosen and remove scaling concrete. Sweep the area clean.
Paint the broken area with an epoxy-based concrete bonding agent.
Mix an epoxy-based concrete patching material according to the bag directions. Epoxy-based concrete patches come pre-mixed in a dry state; add water to create a wet product.
Apply the patch with a trowel making it flush with the existing concrete surface and feathering it lightly at the edges. Feathering means to make the application thinner and thinner as it extends past the patch.