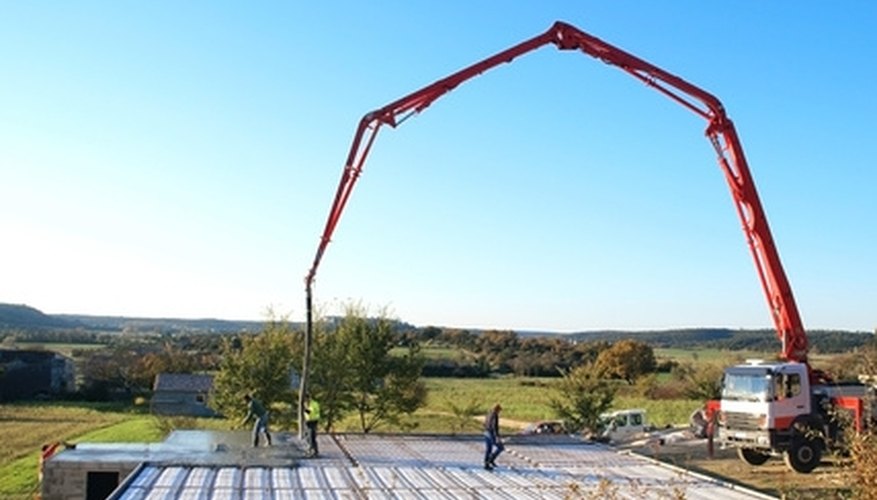 With a concrete pump you can pour more concrete faster, and with less work than you would be able to pour it by hand. A pump also allows you to pour in places that a mixing truck can't reach, like the second, third or fourth story of a building. However, they only work if they're properly maintained and kept clean. A dirty pump can be disastrous. Any concrete left to harden in the pump or pipes can cause a clog while pumping, damaging the pump and endangering those around it.
Pump out all remaining concrete. After you finished with your pour, point your pump in a safe direction and let the remaining concrete run out. Be patient and keep the pump running until all rattling inside has ceased.
Rinse out and scrub the hopper---the basin where the concrete enters the pump---with a brush. Scrub thoroughly to make sure no setting concrete sticks to the sides of the hopper.
Run water through the pump. Using the water tanks on a mixing truck, a local source or the pumps reserve, run water through the pump to flush it out. Don't stop until the water is running clear.
Clean the joints. Remove the clamps holding the pipes together and clean the individual joints with the scrub brush.
Rinse the entire unit. A concrete pump can splatter concrete quite a distance from where it's pumping. Rinse the entire unit before leaving the job site, even the truck parts not used in the pumping.