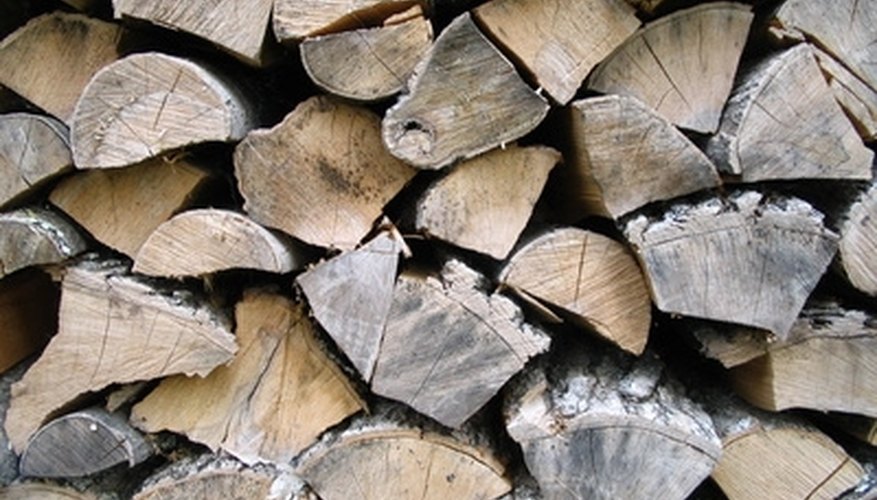 Some firewood works better than others. Oak firewood is considered an excellent type of firewood because it is hardwood, burns for a long time and if seasoned correctly, does not create heavy smoke. Splitting oak firewood is an art that has changed very little over time.
Cut your oak firewood logs to an appropriate length before splitting. The longer the log is, the more difficult it will be to split and vice versa. If you are new to splitting firewood, it is probably a good idea to start with approximately 12-inch logs.
Place your oak firewood log upright on one end on the chopping block. A solid tree trunk makes an ideal surface to split wood on.
Look for any hairline cracks or other weaknesses in the firewood as they make an ideal place to aim for.
Stand with your feet shoulder width apart and securely grasp your wood splitter's maul with both hands. Position your hands so that your dominant hand is near the head of the maul and your other hand is toward the end of the handle.
Focus your eyes on a spot near the edge of the log. Do not aim directly in the center.
Bring back the axe with your dominant hand going over your shoulder while maintaining focus on the log. While in motion, slide your dominant hand downward so that it meets your other hand.
Swing your maul down onto the firewood. Bend your knees and waist when delivering the blow.
Pull the maul out of the firewood if you do not split it on the first try. Pivot the maul head back and forth from front to back. Do not pivot side to side because this can break the maul head off of the handle.
Aim for the same place again until you have successfully split the oak firewood.