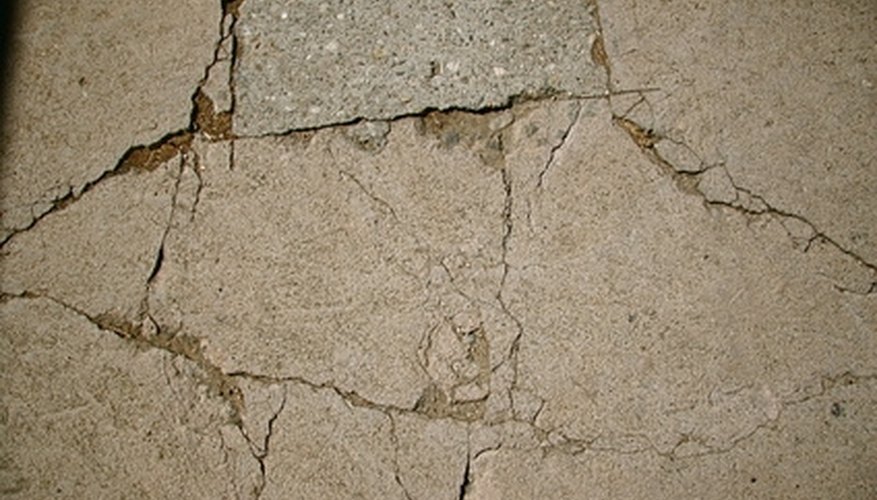 Stamped concrete as an application to enliven a gray concrete driveway or floor has been a flourishing business since its introduction in the 1970s. But it suffers the same assaults from the weather as regular concrete and needs proper maintenance to continue to look good. If your stamped decorative concrete is showing its age, there are ways to reinvigorate it.
Preparation
Pressure-wash the entire surface to be repaired. Use muriatic acid and water if you will be using a water-based product. It will open the surface to accept the new stain. If you will be using a chemical stain, don't use an acid wash. Rinse several times.
Feel the surface of the concrete. If the surface feels smooth to the touch, rough it up a bit with sandpaper. The concrete surface should feel like 120-grit sandpaper to get the best adherence of the color.
Open a crack a bit with a putty knife so the compound will adhere into the base concrete, not just on the surface.
Remove efflorescence with sandpaper. Efflorescence is the white residue caused by the salt in the concrete rising to the surface. If a fine powder-like material is on the surface, called latiance, it can be removed with a putty knife. Wait 24 hours.
Repair
Apply concrete filler with a trowel to affected areas and restamp the decorative pattern, if needed. Allow to dry completely.
Apply the new stain with a paint sprayer or brush. A sprayer works best since you avoid overlapping the stain. Don't use paint, as it will not penetrate the surface of the concrete. Stain is a transparent product that will penetrate the surface without hiding it. Use either a polymer refinishing system or an acid stain. Water-based stains need two or three coats applied over a 24-hour period. Allow stain to dry completely, then rinse several times and let dry for 24 hours.
Seal the product with urethane or wax. This step will affect the finished color of the product, so test it first in an unobtrusive area.